Taiwan AI Robotics Accelerator (TAIRA) in Southern Taiwan Science Park (STSP), Japan-based Mizuho Bank and thematic incubation service provider StarFab Accelerator on May 28 signed a MoU for cooperation to set up an open accelerating platform for startup teams and businesses to develop innovative products or services, according to StarFab.
TAIRA was established jointly by STSP and StarFab with the latter responsible for operation of the accelerator.
The open accelerating platform will link entrepreneurship, resources, capitals and markets in Taiwan and Japan to startup teams and businesses, with TAIRA being a base for them to experiment prototype products or services.
Mizuho Bank has operated in the Taiwan market for 60 years and all of 22 Japanese enterprises stationed in STSP are its clients, signifying that it is an important partner for STSP. The bank has cooperated with TAIRA to match Hugreen, a startup developing sensing networks and monitoring systems for use in greenhouses, and Akubic, a startup developing IoT-based water quality monitoring solution used in agriculture, with Japan-based companies operating in Taiwan for business cooperation.
StarFab CEO Amanda Liu said that TAIRA has so far attracted 120 local and overseas startups and matched 25 of them with large enterprises for business cooperation.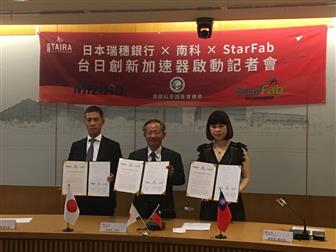 TAIRA, Mizuho Bank, StarFab signing MoU
Photo: Rebecca Kuo, Digitimes, May 2020