Five startups recently exhibited their innovative products and solutions at the Central Taiwan Accelerator, Innovation and Entrepreneurship Forum held by the administration of Central Taiwan Science Park (CTSP).
Free Bonics Taiwan, a developer of powered exoskeletons and bionic technology, will cooperate with Taiwan-based Tiger Accelerator and Netherlands-based rehabilitation center De Hoogstraat Revalidatie to propose a smart exoskeleton project to apply for subsidization from the Netherlands government.
CatchGene introduced an in-house-developed solution of purifying rare cfDNA (circulating cell free DNA) or cfRNA from liquid biopsy to help diagnose and trace cancers.
CloudMed showcased iCARE, an 8-in-one physiological measurement device to integrate cloud computing-based analysis of health data and dietary/exercise recommendations for personalized health management.
Nestech presented smart door locks and access control systems for use in smart city solutions, hotels and offices through combining edge computing with cloud computing.
A research team from China Medical University unveiled biodegradable internal fixation materials for application to bone fractures, with such materials able to be used to make internal fixation in desired shapes via 3D printing to match bone fractures.
CTSP administration in 2018 set up AI Robotics Hub in the science park, with the accelerator incubating 16 startup teams, and invited 11 Taiwan-based accelerators and incubation centers to form Central Taiwan Accelerator Alliance in October 2019.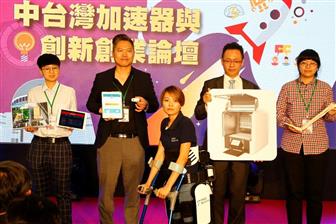 Startups showcase products and solutions at a CTSP forum
Photo: CTSP administration