XRSpace, a VR headset specialist founded by former HTC CEO Peter Chou three years ago, has launched what it claims is the world's first 5G VR headset for the mass consumer market.
The XRSpace Mova VR headset allows consumers to socialize, work and play together in both private and public spaces that are contextual, familiar, immersive, interactive and expandable, the company said in a statement.
The goal of XRSpace is to take XR to the mass market by redefining how people connect, socialize, and collaborate through VR headsets by simplifying the hardware and user experience, Chou said at a press event.
The Mova is powered by a Qualcomm Snapdragon 845 mobile XR platform, and fully portable with 5G, LTE, or Wi-Fi connection, the vendor said. Requiring no additional controllers to navigate the virtual world, the Mova can be operated through use of hand motions and gestures, it said.
The Mova VR headsets will be available in Taiwan's telecom channels starting third-quarter 2020.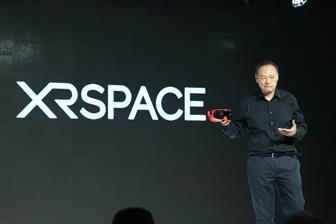 XRSpace founder Peter Chou introducng the Mova VR headset
Photo: Michael Lee, Digitimes, May 2020