A research team in Taiwan has disclosed it has developed flexible (bendable) chargeable batteries based on magnesium fabric.
The team leader, Hung Fei-yi, a professor at the Department of Materials Science and Engineering, National Cheng Kung University (NCKU), said the batteries use magnesium alloy/ceramic powder and nonwoven fabric produced by KNH Enterprise.
A small patch (1.5cm in diameter) of such a fully-charged battery can support over 36-hour continued lighting by an LED light bulb, Hung said.
Some types of chargeable batteries run the risk of explosion when batteries are ovcercharged, but magnesium fabric-based ones featuring no electrolytic solutions are safe and environmentally friendly, Hung noted.
The flexible chargeable batteries can be stacked to increase power storage capacity and multi-layer packaged into battery packs for electric vehicles (EV), Hung indicated.
Based on global literature concerned, all of available solid-state chargeable batteries are inflexible, therefore magnesium fabric-based chargeable batteries are the world's first flexible solid-state model, Hung indicated.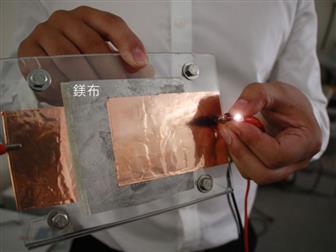 Magnesium fabric-based flexible chargeable batteries
Photo: NCKU