AIMobile intros smart mobile streetlight
Yihan Li, Taipei; Joseph Tsai, DIGITIMES
Taiwan-based AIMobile has developed a mobile streetlight that can be established at road intersections with frequent accidents or during rallies to collect data.
AIMobile's mobile streetlight is a metal cabinet equipped with a battery that can supply up to 48 hours of power. The pole of the streetlight can be assembled based on the need of height and can be attached with cameras, different types of lamps or sensors. The cabinet features four wheels for mobility and can be switched into unmovable mode when necessary.
AIMobile president Timothy Chang pointed out that edge computing's maturity and 5G's commercialization have enhanced the company's surveillance solution for smart cities, allowing the system to monitor in real-time cities' dynamic data, which will serve as bases for governments' decision-making process.
AIMobile has already applied patents for the streetlight.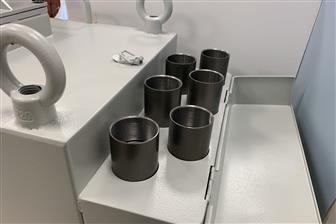 AIMobile mobile streetlight
Photo: Yihan Li, Digitimes, January 2020