US-based accelerator SmartLabs will establish a biomedical entrepreneurship base at Hsinchu Biomedical Science Park, northern Taiwan, to support Taiwan-based biomedical startups, according to the Ministry of Science and Technology (MOST).
The base, under MOST's financial sponsorship and technological support from government-sponsored Industrial Technology Research Institute (ITRI), will be linked to Taiwan's universities, related organizations and firms, hospitals and biomedical industry, MOST noted.
SmartLabs focuses on accelerating startups engaged in R&D of treating cancers and rare diseases and has incubated six of the globally top-10 gene editing startup businesses including Editas Medicine and CRISPR Therapeutics, company CEO Amrit Chaudhuri said.
The base to be set up in Taiwan is SmartLabs' first overseas base, as Taiwan's advanced medical care and high-tech industries can play a portal for SmartLabs' entry into Asia Pacific's biomedical startup market, Chaudhuri explained.
MOST and SmartLabs will work together to select Taiwan-based biomedical startups for the SmartLabs Global Launch program, which will provide customized and localized accelerator services focusing on international marketing, compliance with patent and administrative regulations related to biomedicine, financial planning and fundraising, MOST indicated.
MOST will subsidize outstanding startups for a 3-month practical training at SmartLabs' headquarters in Boston.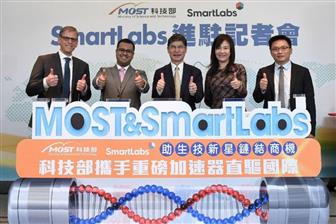 SamrtLabs's CFO Seth Taylor (left), CEO Amrit Chaudhuri (second left), amd MOST minister Chen (center) Liang-gee
Photo: MOST