As a tool for transforming transportation, autonomous vehicles are to be developed to become a part of MaaS (mobility as a service), according to the architect of Taiwan's law governing development of unmanned vehicles.
When drafting the Statute for Experiments of Technological Innovations in Unmanned Vehicles, Andrew Yeh said he incorporated possibly all the parameters that would affect progress in experimenting autonomous vehicles.
The statute is based on 2+1+1 principle where 2 refers to road experiments for two years, the first "1" means room of regulatory sandbox for exemption from regulations concerned and the second "1" refers room for necessary amendment, Yeh noted.
Yeh, the cabinet's depute executive secretary for the Office of Science and Technology under the Executive Yuan, said he and his colleagues had collected ideas and opinions from universities, firms, developers and operators of autonomous before writing the draft, which became law in early 2019.
One of the crucial parts of the law stipulates that the authorities concerned must finish examination of applications for experimenting technological innovations in autonomous vehicles within 60 days following submission of the applications.
The authorities concerned include transportation authorities under local governments for general urban and rural roads, Freeway Bureau and Directorate General of Highways under Ministry of Transportation and Communications (MOTC) for freeways and intercity highways respectively, administrations of industrial parks for roads inside such parks.
To enforce the statute, the Ministry of Economic Affairs (MOEA) has drafted a subsidization scheme for experimental or trial operation of unmanned vehicles, which will match a 5-year plan that MOTC will soon announce for developing smart transportation systems, Yeh noted. Applicants for MOEA's subsidies have to propose detailed experiment plans, including information on the number of autonomous electric buses, the number of trips a day, time interval between two consecutive trips, the volume of high-precision electronic maps (in km) in use, needed roadside IoV (Internet of Vehicle) infrastructure, Yeh indicated.
Both MOEA and MOTC will set aside budgets to encourage local governments to designate roads and promote local bus service operators to undertake on-road experiments of autonomous electric buses, Yeh indicated.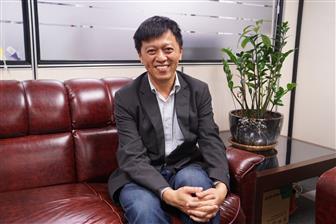 Andrew Yeh, deputy executive secretary for Office of Science and Technology
Photo: Yihan Li, Digitimes, December 2019