Supermicro, a first-tier server vendor worldwide, has been aggressively developing gaming-related products with its experience from the server business. Supermicro is able to offer customers products with server quality.
Digitimes recently talked with Supermicro's senior application system product manager Steve Lee and senior product manager Tony Fan about the company's gaming business.
Q: How long has Supermicro been in the gaming motherboard business?
Lee: We have been developing gaming motherboards for five years. In fact, Supermicro has been in the motherboard business for around 20 years already, but has mostly focused on consumer, server and embedded solutions.
Recently, with gaming applications growing popular, Supermicro also crossed into the development of the related product lines. However, in addition to customers from the PC DIY market, we have seen growing demand from the enterprise sector as customers from the field are building desktops using Intel's top-end CPUs and need reliable motherboards to unleash the CPUs' full potential.
All our gaming motherboards are equipped with server-grade components and designs to optimize the stability of the systems, making our gaming motherboards the top pick for our customers.
We currently have several business models for selling our gaming motherboards including cooperating with system integrators, specific regional channel retailers and e-commerce platforms.
In Taiwan, we work with a local channel retailer CoolPC to sell gaming and server motherboards, while in the US our motherboards can be found on both Amazon and Newegg. However, partnering with system integrators is still the main business direction for Supermicro's gaming business.
Q: What direction is Supermicro planning to push its development to?
Lee: We have seen many brand vendors in the gaming market shifting their development to features that make products more appealing to customers, such as adding support of RGB lights to hardware and peripherals.
This is a growing trend in the gaming market, but Supermicro at the moment will still focus on maintaining products' high quality, performance and reliability, as these are what Supermicro's customers are mainly looking for.
Q: Does Supermicro manufacture its gaming desktop in house?
Lee: Supermicro is collaborating with peripheral makers including Thermaltake and Lian Li for desktop and chassis product lines.
Supermicro has co-developed two liquid-cooling gaming desktops with Thermaltake that are currently available in the US channels. The company's chassis co-designed with Lian Li was showcased at Computex 2019.
Q: Does Supermicro's gaming products have any advantages over competitors?
Fang: Supermicro is designing its gaming motherboards with a concept 100% identical to designing server motherboards. Our gaming motherboards are all equipped with server-grade components that are provided by a sole supplier in order to keep quality stable.
To make every gaming motherboard with the same quality is the goal that Supermicro has been looking to achieve and by choosing only one supplier, the company is looking to avoid the concern on the tolerance discrepancy of the components.
For example, Supermicro's gaming motherboards use high-quality PCBs with extra layers, which are the same as those used in server motherboards. Although the such motherboards are pricier than regular ones with fewer layers, they provide better and more reliable electrons transmission via circuit.
In addition, several of our gaming motherboards are also equipped with server-grade remote management chip from ASpeed Technology and Supermicro has a team of 300 software engineers to help customers manage their systems via the Intelligent Platform Management Interface (IPMI) feature. Customers can also obtain assistance via their smartphones.
Thanks to Supermicro's expertise in server motherboard design, some of Supermicro's gaming motherboards can support up to a total of four graphics cards with the addition of a PCIe switches chip to expand the motherboard's Lane support.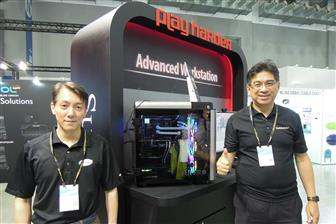 Supermicro senior application system product manager Steve Lee (left) and senior product manager Tony Fan (right)
Photo: Joseph Tsai, Digitimes, July 2019