Taiwan startup GranDen, devoted to integrating AR, VR and MR technologies into interactive services since its inception in 2018, is heading towards the next XR generation by offering interactive content in O2O marketing, according to company co-founder and CEO Dochin Lai.
Lai said currently entertainment products, trade fair events, training simulations, museum exhibitions, and new retail O2O integrated solutions can leverage innovative interactive services by integrating virtual and physical realities to allow consumers to enjoy diverse IT application experiences in a relaxing and entertaining style.
Lai said many of Taiwan's AR and VR businesses, mostly operating on a small to medium scale, have failed over the past few years, and only a few have survived after having successfully tapped into specific application segments.
Osense Technology, for instance, performs well in the niche segments of indoor navigation and smart stadium; ARPlanet embraces AR marketing solutions; and Shadoworks Studio excels in digital education programs, according to Lai.
Lai revealed that GranDen now mainly focuses on Internet celebrity economy, entertainment, and new retail O2O. He said that after 5G and 8K technologies and applications become mature, consumers will be able to enjoy many more diverse tech experiences, and that in the future digital ecosystem, offline retail will have to be upgraded and transformed from merely selling merchandises.
The company has obtained US$500,000 during its Pre A round of fundraising to support the expansion of its Aligala mobile game platform.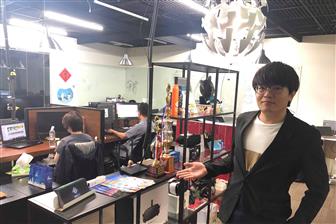 GranDen co-founder and CEO Dochin Lai
Photo: Mark Tsai, Digitimes, July 2019