Taiwan-based BE Accelerator, with business focus on digital medical care, application of AI to medical care and development of medical devices, aims to become a gateway to Asian markets for local and foreign startups engaged in medical technology, according to company executive director Arthur Chen.
BE Accelerator's digital medical care business covers remote medical care, precision medicine, next-generation genome sequencing and smart hospitals, medical application of AI, such as interpretation of medical images, assisted diagnosis, health management and R&D of pharmaceuticals. It is also developing surgical equipment and instruments, advanced biological materials, monitoring and therapeutic systems, and drug delivery platforms.
Taiwan is suitable for developing digital medical care as because of its global leadership in developing and producing ICT products and its medical technology, Chen explained.
BE Accelerator's strategic partners are Stanford University's Byers Center for Biodesign, a developer of innovative process for designing medical devices; US-based zero-equity accelerator MassChallenge; Taipei Medical University; Show Chwan Health Care System, which has has set up IRCAD Taiwan, an Asian training institute for minimal invasive surgery, via partnership with France-based IRCAD; Taiwan Startup Stadium (TSS) consulting firm; and BioIPSeeds, a platform for biomedical R&D results collected in Taiwan and abroad.
BE Accelerator has cooperated with many hospitals in Taiwan including Show Chwan Hospitals, Mackay Memorial Hospital and Changhua Christian Hospital as well as Tohoku University Hospital in Japan, Chen noted.
TermSheet Bootcamp, a program jointly operated by BE Accelerator and TSS, let accelerated start-ups know what terms are crucial for angel or venture capital investment, such as whether operating right will be diluted in the future and how to sell innovative technologies and share profits, Chen indicated.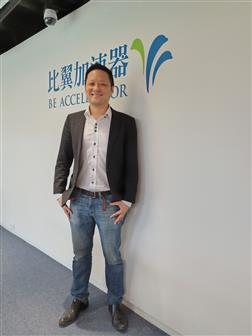 BE Accelerator executive director Arthur Chen
Photo: Company