AR/VR, smart home and healthcare were the three popular exhibition themes at CES 2019 Eureka Park with about 10% of the exhibitors being AR/VR developers. In terms of nationalities, French AR/VR startups made up the largest team, surpassing the US, followed by the Netherlands and Korea.
A total of 393 AR/VR firms attended CES 2019, among which 261 exhibited at the CES main hall and 132 exhibited at Eureka Park. AR/VR remained a highlight area of consumer electronics at this year's event.
Taiwan startup's eye tracking technologies
According to Digitimes Research estimates, head-mounted AR/VR devices will enjoy a 50% CAGR 2018 through 2023, exceeding 80 million units by 2020. The market expects to see Apple AR headsets by 2021 and other vendors will follow suit. Accordingly, AR/VR devices will have a chance to flourish in the coming years, thus becoming a key research area innovative startups are focusing efforts on.
The AR/VR exhibits at CES 2019 Eureka Park focused on three themes - practical applications, hardware devices and motion tracking technologies. Practical applications included VR for education in the classroom, VR for training at workplaces and real-time AR assistance for engineering and healthcare uses. Hardware devices focused on AR glasses while there were fewer VR headsets on display than before, indicating a strengthening trend of AR devices and a weakening trend of VR devices.
Motion tracking technologies used in AR/VR devices grabbed attention at CES 2019, encompassing hand, eye and even full body motion capture solutions. With developers' continuing devotion into motion tracking researches, these technologies remain the highlight of exhibitions.
The Taiwan Tech Arena at CES 2019 Eureka Park hosted exhibits from 40 Taiwan-based startups, among which three are endeavoring on AR/VR technology developments. Jarvish introduced a motorcycle helmet with AR display of road information. ChaseWind showcased AR glasses for cycling that make use of bioelectrical signals. Ganzin presented an eye tracking solution that can perform foveated rendering and control input.
Taiwan-based firms are major suppliers of AR/VR devices. With rising demand for volume production and advancing technologies, Taiwan startups have a clear focus and direction on AR/VR device R&D. This will help Taiwan-based firms secure their places as the world's leading AR/VR device suppliers.
On exhibit at CES for the second time, Ganzin's eye tracking module features easier assembly and lighter weight compared to world-leading vendors' solutions. Comprising only an eye motion capture IC and three special-purpose cameras, Ganzin's module can easily integrate into AR/VR devices for eye tracking applications. With a dedicated IC performing computation at a faster speed and lower power consumption, Ganzin's module supports continuous operation for a whole day, fully satisfying AR glasses' development trend toward energy efficiency and lightweight design.
Showcasing purpose-built devices for specific use scenarios, Jarvish and ChaseWind respectively brought forth a smart motorcycle helmet and smart cycling glasses which combine navigation, road information, call notification, voice assistant and other smart features. The information is displayed on the glasses for the rider to stay on top of road conditions and ride with enhanced safety. ChaseWind's solution further integrates a physiological signal sensor to help the cyclist manage health and exercise by measuring his heartrate and the bike's power, rotating speed and velocity.
France: The largest team of AR/VR exhibitors focusing on practical applications
The number of AR/VR startups from France exhibiting at CES 2019 Eureka Park was the largest among all nationalities. They mostly target consumer applications. For example, Innersense displayed an app which allows users to virtually place household items they plan to purchase in their home to see how they would look using AR technologies. Perspective delivered a solution enabling the user to take a virtual tour of a hotel and get a realistic feel of the hotel's atmosphere using a VR device.
In addition to consumer applications such as AR shopping and VR travel, French startups also showcased commercial applications including VR for healthcare, VR for training and AR for assistance. For instance, Hypno VR and KineQuantum both proposed the use of VR for hypnosis and physical therapy to attain ideal results faster. Farsight can customize training materials for factories, with which machine operators can have adequate training before they actually go online and operate a real machine, ensuring worker safety.
US AR/VR startups present diverse technologies, devices and applications
Trailing France, the US team of AR/VR startups attending CES 2019 Eureka Park was the second largest. As opposed to their French counterparts, which focused on software applications, US startups brought to CES a more diverse range of AR/VR innovations, including AR/VR end devices. Human Capable demonstrated its Norm AR glasses, a standalone device capable of speech recognition with no need for network communication. It looks like a regular pair of eyeglasses and operates independently, requiring no external controller. Perfectly matching the trend of standalone AR glasses, Norm Glasses was named as a CES 2019 Innovation Award Honoree.
Working on gesture control technologies, Hauoli's tracking solution based on acoustics captures hand motion with nanometer precision without the need for an external controller. Hauoli's research was funded by the National Science Foundation (NSF). The human-machine interface developer Healium created a brain-computer interface with a brainwave sensor to allow users to control computer display. A live demonstration was given at CES wherein users could hatch a butterfly from a chrysalis using their mind.
Among American startups at CES, those working on holography technologies were under the spotlight. The demonstrations at CES showed that it may still take some time for holography technologies using photonic crystals and Fovi3D light field display to be commercialized. Although the developments of holography technologies have many obstacles to overcome, many startups led by Magic Leap are making efforts to bring their ideas to life.
Canada in North America had a small team of startups exhibiting their impressive R&D results at CES 2019. Aris MD presented their solution using diagnostic imaging combined with AR/VR technologies. Working to eliminate surgical errors, Aris MD first uses VR simulation for surgical training and then uses AR to assist in real surgeries. Its solution is the first to combine AR and VR applications on one platform.
Others from Europe
Aside from France, many startups from other European countries also attended CES 2019. Dutch startup Gemvision created an AR work platform combining 3D modeling and AR devices for jewelry design and metal work. Holofil presented a tabletop device that creates a 3D visualization experience for store merchandise to increase consumer interest.
As a hub for innovation, Israel highlighted motion tracking technologies for their AR/VR exhibits at CES 2019. Sixdof Space uses a sensor for 6DOF positional tracking and simultaneous localization and mapping (SLAM) to precisely track head and body movement. Whenever the user turns his head left and right, stands up or squats down, he or she will see VR images displayed at the correct viewpoint in real time.
Superb Reality's gesture control technology allows the user to grab an image by its two ends and zoom in or out using gestures. The image can then be made bigger or smaller or can be rotated freely at any angle. Swiss startup Creal3D demonstrated a light field display using a device like regular glasses with no need for eye tracking to focus. Creal3D hopes to use the light field display in VR devices in 2019 and in AR glasses by 2021.
Korean team: The largest from Asia
Korea brought to CES 2019 Asia's largest team of startups. Among them, bHaptics introduced its TactSuit, including a haptic vest, haptic sleeves and haptic gloves to take virtual input and apply realistic touch and force feedback. Featuring touch feedback points four to five times more than similar products on the market, TactSuit enables more sensitive touch feedback to users.
LetinAR exhibited AR optical lenses developed based on its Pin-Mirror technology for AR glasses. Compared to other optical lenses on the market, LetinAR Pin-Mirror lenses enhance the field of view (FoV), depth of field (DoF) and color performance. The product is expected to hit the market in volume in 2019.
Conclusion
CES 2019 Eureka Park hosted exhibits from 132 AR/VR startups around the world, down from 139 in 2018. The applications on display have changed from being diverse to focusing on segments with real future market demand. Moreover, there were more startups than before making efforts toward AR hardware developments, aiming to promote early volume production and widespread availability of AR glasses.
As a major manufacturing base of consumer electronics, the Taiwan industry is fully committed to AR/VR technology developments. The advancements in eye tracking technologies and professional-grade AR devices shed light on what Taiwan-based firms are capable of achieving. These innovative startups will help Taiwan ride the next rising wave of consumer electronics and take center stage again.
(This is part of a series of articles about Eureka Park startups and innovations at CES 2019.)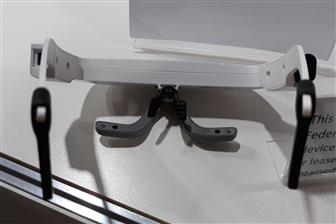 Ganzin's eye tracking module at CES 2019 Eureka Park
Photo: Summer Kuo, Digitimes Research, January 2019