Taiwan-based K-Best Technology, a supplier of RF/microwave equipment, has newly developed an independent low-power wide-area network (LPWAN) wireless communication technology, dubbed Super TaiRa (Taiwan Radio), and also initiated the formation of an alliance with government, academic and industrial sectors seeking to tap robust business opportunities associated with Industry 4.0, IoT, smart city, transportation and disaster relief applications, according to company president YW Tung.
Members of the Super TaiRa Alliance include US-based Lora chip supplier Semtech, the Ministry of Transportation and Communications, Intelligent Transportation Scoiety of Taiwan, the Institute for Information Industry (III), Acer Group, Taiwan Optical Platform, and government-funded Chung-Shan Institute of Science and Technology (CSIST).
Tung said that with technological support from CSIST and based on Lora chips provided by Semtech, K-Best has successfully developed the sub-1GHz LPWAN technology that boasts low packet error rate (PER), high coverage rate, and high information security, as well as strong anti-jamming and anti-disaster traits.
Through its independent area network, Tung continued, Super TaiRa can be applied to offer strong information security protection and stable communication conditions for high-tech plants, preventing the leakage of secret process technologies and production data. Some Taiwan semiconductor firms have utilized Super TaiRa technology for message transmissions within their production complexes.
In addition, the firm's vice president HH Lin said in the smart city application, Super TaiRa can perform well in helping cities collect complete big data in various aspects including soil liquefaction, flooding monitoring, smart parking and smart power grids. He continued the technology can also be utilized to enhance efforts preventing illegal logging.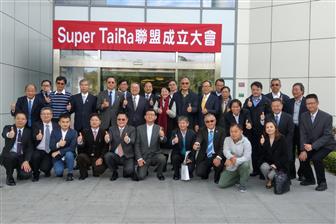 Super TaiRa Alliance inaugurated
Photo: K-Best Technology, January 2019