UnlimiterHear and Airoha to jointly develop Bluetooth chips with hearing protection technology
Gina Lai, Taipei; Joseph Tsai, DIGITIMES
UnlimiterHear, a Taiwan-based hearing technology specialist, has teamed up with Airoha Technology to develop Bluetooth chips for hearing aids.
Airhoa, a subsidiary of MediaTek and the largest supplier of solutions using True Wireless Stereo (TWS) technology, wanted to enter the Bluetooth hearing aid market more than three years ago, only to realize that it faced a high entry bar without the necessary expertise, according to company CEO and president David Chang.
Airoha has now decided to form a partnership with UnlimiterHear to jointly develop the chips, he said. Many first-tier earphone brands are clients of Airoha.
UnlimiterHear has been devoted to developing technologies for hearing protection and enhancement for over 10 years, and currently owns 171 audio-related technological patents.
UnlimiterHear chairman Kuo Ping Yang pointed out that Apple and Samsung Electronics have also been developing technologies in the field, showing the potential of the hearing healthcare market amid.
Figure from World Health Organization (WHO) in 2015 showed that the world had around 1.1 billion young people facing the risk of hearing impairment by unsafely using smartphones and earphones.
Most of UnlimiterHear competitors' technologies only allow manual adjustments on the sound volume. In addition to protecting users' hearing, the companies are also keen to avoid any possible dispute arising from misuse.
But UnlimiterHear's in-house developed smart algorithm features ability to comprehensively detect sound level and dynamically adjust the output volume for each piece of music to ensure users are listening to the music within a safe sound range.
According to NIOSH's standard, users are able to enjoy up to eight hours of listening activities with a sound level of 85dB, but with a sound level of 103dB, the maximum usage time is cut sharply to only seven minutes and 30 seconds. Beyond the time limit users will start to suffer hearing impairment.
The hearing safety level is determined by the sound strengthen (loudness), continuity (length of the sound) and frequency (occurred often or not). The three factors are related to each other, forming the level of the overall sound volume, according to UnlimiterHear.
Yang, who also has an expertise in the acoustic technology, explained that the total sound volume that a person can accept safely is unchangeable. The energy generated from a long-term low-volume sound and the one from a short-term high-volume sound are the same.
Yang noted that hearing impairment is irreversible and will eventually affect a person's understanding of speech and life quality.
Yang revealed that UnlimiterHear's technology of dynamic hearing protection can be embedded into a smartphone or Bluetooth chip.
The company has also signed agreements with Bluetooth chip and medical healthcare platform developers to integrate its 171 IPs, including Hearing Test, EarSafe, EarEQ, EarClarity and Ubiquitous Hearing, into their chips. Related products and services are expected to become available in the market shortly, it said.
For hearing protection, limiting the sound volume at a fixed level, adopting noise reduction functionality and using sound volume warning are three types of solutions that earphone and smartphone brands usually adopt.
However, none of these solutions are capable of providing dynamic management of overall sound energy and hearing volume levels that have critical impacts on hearing safety. UnlimiterHear's core technologies not only are able to create personalized and smart hearing protection, they can also be integrated with big data for further management, said Chang.
During a recent Internet of Things (IoT) summit, a China-based medical healthcare platform demonstrated a smart Bluetooth earphone with hearing protection functionalities that use technologies from UnlimiterHear. An executive from the platform noted that the smart Bluetooth earphone is able to track usage time, signal energy and hearing volumes and can real-time respond with dynamic sound level adjustments and visual information to prompt users to change their listening behaviors in order to help them continue enjoying their music without noticing any dramatic volume reduction, while still under protection, according to UnlimiterHear.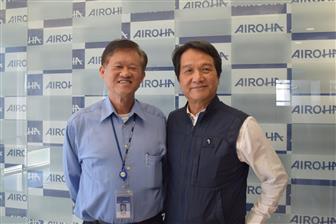 Airoha CEO David Chang (left) and UnlimiterHear chairman Kuo Ping Yang (right)
Photo: Digitimes, December 2018