With the growing popularity of smart speakers and voice assistance tools offered by first-tier Internet service providers, many have focused on the development of emerging home devices. But for UnlimiterHear, which develops audio solutions, it sees the potential of integrating voice assistance functionality into mobile devices such as Bluetooth earphones and speakers. UnlimiterHear expects the new smart Bluetooth earphones and speakers to be able to gradually replace traditional Bluetooth earphones and speakers.
Digitimes recently had a chance to sit down with UnlimiterHear chairman Kuo Ping Yang and CEO Tony Huang to talk about the business opportunity of the voice-assistance products and the company's latest operations.
Q: What kind of company is UnlimiterHear?
Yang: UnlimiterHear is an intellectual property (IP) holder and currently owns 140 audio-related technological patents. Our main business model is to license the patents to clients including chip designers and makers as well as brand vendors of audio products such as earphones and speakers.
In addition to the licensing business, we offer modularized ICs and total solutions that have already integrated our audio technologies and cloud computing support, and provide customizable in-house designed apps to help satisfy clients' specific demand.
Q: What product lines does the company currently have?
Yang: Our businesses can be summarized into two major categories: the healthcare and the consumer, while Bluetooth mobile earphones and speakers are currently our largest business.
For the healthcare sector, our technologies are mainly implemented into two major products: hearing aids and hearing protection devices, while for the consumer area, we have the EarCommand technology, designed for voice assistance-supported devices and can be used in products including smart speakers and earphones and the EarEQ technology that can personalize a speaker or earphone's frequency output to best suit the user's hearing.
We are also developing a new technology that can provide real-time oral translation via voice assistance platforms.
Huang: For the EarCommand, the technology is designed primarily for portable devices particularly Bluetooth earphones and speakers, and supports short-distance voice recognition. Users simply need to press a button on their earphones or speakers to begin the voice recognition process and the recorded voice will then be transmitted to the app on users' smartphones via Bluetooth and then send to voice-assistance platforms provided by first-tier Internet service providers.
Our app is able to support several different voice assistance platforms including Amazon's Alexa and China-based IFlytek's voice assistant tools. Since Bluetooth speakers and earphones have a much higher usage rate than traditional speakers, we believe the product line will have a strong potential in the upcoming years.
Our IC modules all support Bluetooth communication and are certified by the official standard organization. We also provide several customized firmware to support different kinds of applications. Currently, our IC module business is mainly seeing orders from the healthcare market and the solutions are primarily used in hearing aids.
Q: What is UnlimiterHear's view on the Bluetooth earphone and speaker market?
Yang: The trend that we are seeing in the market is similar to feature phones' competition against smartphones.
Feature phones, which were the original mainstream of the handset market, eventually lost their ground to smartphones and are now mainly in the entry-level sector due to smartphones' better functionality and diverse usages.
The same thing is also occurring to Bluetooth earphone and speaker products. The "feature" Bluetooth earphones and speakers will be replaced gradually by new-generation "smart" Bluetooth earphones and speakers and our technologies will become one of the key drivers for the transformation and help traditional earphones and speakers become smart and accelerate the replacement trend.
Q: What are UnlimiterHear solutions' advantages?
Yang: Traditional Bluetooth earphones and speakers' key usage is to transmit audio wirelessly, but our technologies are able to further enhance their functionality, allowing the devices to support apps and personalize their hearing frequency for specific users with EarEQ.
We began our business four years ago developing Bluetooth hearing aids and designed apps to implement our technologies. Seeing the emerging voice-assistant business opportunity in the Bluetooth earphone and speaker sector, we decided to put our technologies into these mobile product lines to help create added values.
Huang: As far as we know, we are so far the only solution provider that is integrating the voice assistance function into Bluetooth earphones.
For our clients, they have many options for adopting our technologies into their products. They can purchase our chips or procure solutions from our chip partners including CSR and Microchip and get a license from us.
Although we are the first player to offer short-distance voice assistance-support Bluetooth solutions in the market, we still see rising competitions from other IP developers. However, our experience in developing hearing aids has given us advantages in the competition.
Our technology is able to filter out noises and collect only the user's voice and will then send the voice through Bluetooth to our app on a smartphone for the software to transmit the voice to third-party voice assistance platforms.
This technology is exclusive from our development of hearing aids. There are not many earphone vendors able to come out with such a profound sound technology. What we are trying to do is to implement our professional-level hearing aid technologies into consumer products to create added value.
With a clear voice, our technology is able to receive a faster response from voice assistance platforms and also more accurate answer.
Our Acoustic Algorithm Simulation System (AASS) also played a major role in improving voice assistance platforms' responding time. With our AASS, time spent from asking a question to receiving an answer can be shorten by over 25%, which is expected to greatly improve user experience.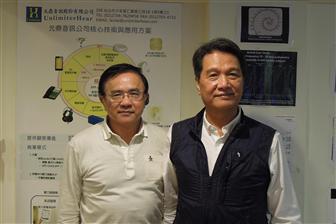 UnlimiterHear chairman Kuo Ping Yang (right) and CEO Tony Huang (left).
Photo: Joseph Tsai, Digitimes, December 2017