IoT startups urged to first find partners from good ecosystems
Elisha Hung, Taipei; Willis Ke, DIGITIMES
IoT startups must first manage to enter good ecosystems to find partners that can best help them with fast growth, no matter what directions they will follow in developing innovations, according to CY Huang, director of National Chiao Tung University (NCTU)'s Center of Industry Accelerator and Patent Strategy.
Huang said that after finding good partners, IoT startups have to demonstrate their core competitiveness, which can be visible or invisible resources. They should then develop innovative products based on feasible business models, and identify potential customer groups that can support market expandability for their products. Finally, startup creators have to set up strong teams with visions and capabilities for international deployments.
Huang cited a report from Harvard Business School as indicating that about 75% of venture-backed startups have failed in the US. But this is not a difficult issue to address, depending on whether startup developers can locate their weakness (for example, Taiwan teams usually are not good at boosting value chains) and do something to strengthen it, Huang continued.
Statistics show that global venture capital investments amounted to a 10-year high of US$155 billion in 2017, but the investment funds were highly concentrated in the US and China.
Apparently, Huang said, Taiwan is not among target investment destinations for global venture capitalists, but chances still exist for startups in the country to win investments from worldwide venture capital firms if they can utilize Taiwan's existing industry advantages and find niche points from the current market trends.
Along with the emergence of edge computing and fog computing, global demand for information technology products has again returned to IT hardware, requiring the support of strong terminal production capability. With robust prowess in both wafer foundry and IC design services, Huang commented, Taiwan will have a chance of playing a crucial role in the new era.
But he reminded startup teams to consider product designs from the market side instead of the technology side, or they will fail to build long-term competitiveness.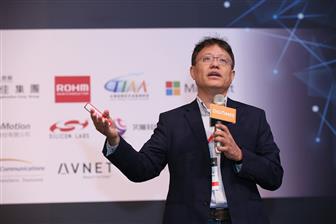 CY Huang, director of NCTU's Center of Industry Accelerator and Patent Strategy
Photo: NCTU