Taiwan startup KitchBot, aiming to make cooking an interesting and convenient job with IoT hardware and software technologies, is moving to build a smart kitchenware platform integrating food ecosystem services including smart home, smart wine brewer, 3D modules, pour-over coffee, and smart bean roaster, according to company co-founder HY Zhu.
Zhu said that his company has developed a remote-control smart socket dubbed Vulcan, at a cost of NT$3.5 million (US$113,409) raised from crowd-funding in early 2017. The socket can be connected with electric cookers, electric hot plates, roasters and electric spoons, and is available with two temperature control lines, with one able to measure temperatures from -10 to 110 degrees Celsius and the other from -10 to 230 degrees Celsius.
Zhu disclosed that KitchBot has shipped over 2,000 Vulcan smart socket sets as of mid-November 2018, through the firm's own website and the iCook platform.
He stressed that the data the company has collected so far show males aged 25-45 constitute the largest consumer group, most of them being doctors, product managers and government employees by profession.
The company has released 60-70 culinary recipes on customized KitchBot apps, with 30 more recipes to be uploaded in the near future. It also plans to launch smart electric rice cookers fitted with chipsets developed in-house before rolling out other smart kitchenware products.
Zhu is responsible for the cloud, software and app establishment and another co-founder SF Yang for electronics technologies.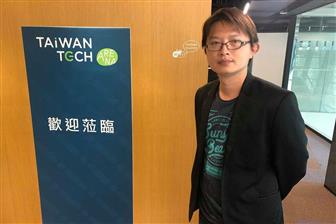 KitchBot co-founder HY Zhu
Photo: Mark Tsai, Digitimes, November 2018