Taiwan External Trade Development Council (TAITRA) used VR technology to promote Taiwan-made machine tools at Japan International Machine Tool Fair (JIMTOF) in Tokyo during November 1-6.
As about 80% of Taiwan's machine tool outout is for export, makers are keen to take part in overseas exhibitions. But transporting products to overseas exhibitions is costly.
TAITRA set up a VR zone at JIMTOF and used VR video to introduce Taiwan-made machine tools not featured at JIMTOF. TAITRA did the same at the biennial EMO Hannover 2017 in Hannover, Germany.
Taiwan-based machine tool maker Yeong Chin Machinery Industries had already used 1,200 VR-based 3D glasses to display information on its products for visitors at EMO Hannover 2005.
3D VR software can also be used to educate buyers on how to use the tools before delivery.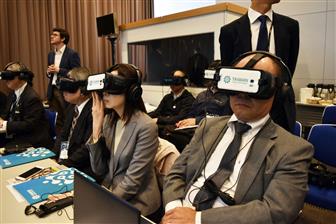 Visitors watch VR video about Taiwan-made machine tools at JIMTOF
Photo: TAITRA