IoT sector offers better opportunities for startups, says PTCom founder
Chloe Liao, Taipei; Willis Ke, DIGITIMES
The development of IoT technologies and applications has yet to mature, providing better opportunities for startups than large-size enterprises, according to JR Cho, founder of PTCom Technology, a Taiwan-based IoT solutions provider.
Cho said that IoT markets are fragmented as there have been no market leaders emerging and no application standards made available. He added that most leading enterprises have been reluctant to invest in a new sector that cannot warrant mass production, which, however, provides a good investment outlet for startups.
Cho disclosed that his company once managed to win an order from a Japan customer for upgrading functions of 5,000 pieces of its original devices, as a certain big Taiwan enterprise had declined the client's order because the volume was too small to support volume production.
IoT applications are a new sector that will take a long while to ferment. Unlike smartphones or PC products suitable for volume production, IoT devices are not standardized products that can promise proper investment gains, yet more suitable for flexible investment by startups, according to Cho.
Cho commented that large enterprises and startups can team up to develop IoT markets, with the latter taking the lead to develop innovative products before the products can be up for volume production by the latter. He also noted that big enterprises can also move to directly establish IoT ecosystems.
In fact, Cho indicated, more and more big enterprises are actively exploring their own new innovation momentum. Google and Microsoft, for instance, have set up many research laboratories, and many others are moving to build accelerators or incubators on their own.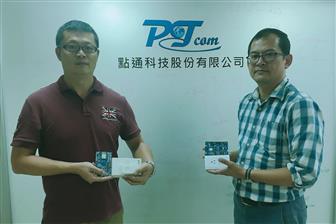 PTCom Technology founder JR Cho (right)
Photo: Chloe Liao, Digitimes, October 2018