While tech innovations have kept driving medical innovations, Taiwan can move to build smart medicine ecosystems by applying 5G and AI technologies to promote new-generation telecare and man-machine collaborative diagnosis services, develop precision medicine and new pharmaceuticals, and provide new-generation medical service systems and smart hospital facilities.
This is the focus of discussions at the 2018 Smart Medicine Forum recently held in Taipei - the 9th edition of forum jointly organized by Digitimes and National Taiwan University Hospital (NTUH). The event attracted more than 600 attendees.
A research report released by MarketsandMarkets indicates that business opportunities arising from AI applications to medical services will expand at a CAGR of over 52% in the coming five years to reach US$8 billion.
At the forum, Digitimes president Colley Hwang cited statistics as saying that Taiwan now has 490 hospitals, 34,000 sick beds, 22,000 clinic houses, 8,000 pharmacies and 35,000 pharmacists. To build smart medicine ecosystems, Hwang continued, Taiwan can leverage the cloud-based core health insurance databank to connect professional social networks, dedicated databases, local-type data centers, maker bases, hospitals and international medical institutions, so as to create cross-industry AI-based medicine ecosystems integrating personal data, 5G+video, startup alliances, as well as industry and academic sectors.
Fast integration of AI, medicine
CJ Yu, vice superintendent of NTUH, noted that medicine and AI are actually undergoing fast integration in three specific aspects. First is preventive medicine, utilizing mass human behaviors and data to work out more effective advices on health management. Second is digital medicine, mainly adopting AI to judge image information when applied to improve healthcare procedures. Third is precision medicine, referring to personalized medical services. Yu said that Taiwan's medical industry will see close integration of software and hardware to achieve smart medical services.
Quanta Computer chairman Barry Lam also opined that the ultimate goal of AI+ medicine will be to let everybody get high-quality medical care. In recent two years, many countries have been actively proceeding with AI strategic deployments, with Japan, for instance, planning to set up 10 AI-based hospitals by 2022.
Lam said that Taiwan's medicine industry has its own advantages, and can build smart hospital architectures based on IoT big data. He disclosed Quanta is cooperating with the National Cheng Kung University Hospital in southern Taiwan to develop a hospital dedicated to serving elderly patients, by providing relevant IoT solutions.
At the forum, many Taiwan tech firms have presented diverse AI application solutions for medical services. Advantech, for instance, offers a new software-hardware integrated solution aimed at helping hospitals create a smart patients management platform; Macronix International presents plans to explore business opportunities for memory application to smart medical devices; and WiAdvance Technology focuses on utilizing AI to automate service flows at hospitals.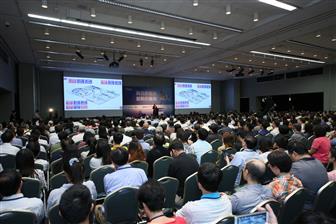 2018 Smart Medicine Forum
Photo: Digitimes, September 2018