LuxNet chairman, Hsing Kung, has founded three companies. Among them, SDL was established in 1983, specializing in manufacturing optical communication devices. It was sold for US$41.1 billion 16 years later, awarding early investors a 10,000 times return on their investment. Then, Kung soon started Pine Photonics in 2000, which was acquired four years later. During the same time, Kung also founded LuxNet. Both his own companies and those that Kung had stake in underwent the burst of the Internet and optical communication industry bubble in 2000 and sustained great impact. Kung has tasted both the sweetness of success and the bitterness of failure.
Now as a partner of Acorn Campus Ventures, Kung enjoys sharing his experiences on entrepreneurship. He thinks with a good foundation and system, Taiwan should encourage investors to make early-stage investments in startups to spur a burgeoning startup scene.
Focus on core business and build up corporate value before burning all the cash
The dotcom boom in late 1990s attracted many people to invest in Internet and optical communication businesses. The bubble finally burst in 2000, causing many companies to go out of business. The venture capital community was busy picking up the pieces and stopped making investments. A firm supplying microelectromechanical systems (MEMS) that Kung funded in 1999 was among those that went belly up. The team that started the MEMS firm actually had quite extensive experiences. The firm was even named by a magazine as the private company with the most potential. Kung also held very optimistic outlook for the firm. However, after the startup team received investment from a large venture capital fund, they asked the team to hire an outside CEO. Both the fund and the CEO were eager to prepare the firm for IPO. Unfortunately, with the dotcom bubble bursting, the firm didn't get to go public and couldn't find a buyer, so closure was inevitable in the end.
LuxNet, which Kung established on his own, faced a similar situation at that time. After LuxNet finished the final round of funding in 2001, it encountered the dotcom bubble burst. The startup team decided to move back to Taiwan in 2003 to start all over again. Combining Silicon Valley's R&D strength and Taiwan's manufacturing advantage, not only did LuxNet manage to pull through but it also generated impressive results. Kung said in retrospect that the MEMS firm should have tried to cut down expenses and focus on making core products before it burned all the cash. When a startup gets caught in a difficult situation and the CEO and venture capitalist have different opinions, only the startup team that won't give up can save the day.
Having experienced the bubble burst himself, Kung remarked in earnest that a business must focus on what it does best, rather than follow what others are doing. In the startup stage, it must try its best to build up its value - make the product or find the customer before it uses up all the venture capitalist'smoney or else it won't be able to carry on.
Competence and a little bit of luck will add up to startup success. After Pine Photonics was acquired, Kung chose to retire and join Acorn Campus Ventures to begin angel investing. Some Chinese engineers on the original Pine Photonics team wanted to start their own business and approached Kung. Kung and Acorn Campus Ventures then helped them found InnoLight, specializing in high-speed optical transceivers, in 2008. As there were already firms producing high-speed optical transceivers in the US but not in China, which mostly imported the products from the US, they decided to set up the company in Suzhou, China.
InnoLight got off to a good start. China not only has tremendous market demand but also plenty of engineering talent as well as high-quality and hard-working labor. When Google raised demand for 40Gb/s optical communication devices for its datacenters in 2012, InnoLight was able to beat a dozen competitors and got the project. InnoLight has made itself the world's No. 3 optical communication device supplier in as short as 10 years, with annual revenue reaching US$750 million.
Taiwan should leverage its advantages and encourage entrepreneurship
Drawing on past experiences, Kung thinks entrepreneurs should have a clear idea about his company's competitive edge, which may be certain differentiating technologies or intellectual property. This is also the first question that venture capitalists ask. It is not enough for a startup to succeed if it is only targeting an untapped country or market. If a startup team has extensive experiences in a certain field or specific know-how to solve certain problems, then it has a shot at success. Furthermore, the entrepreneur must be willing to share the fruit of success with his team and angel investors, who have taken risks to help bring dreams to reality. Everyone will be keen to fund an entrepreneur with a competitive edge and willingness to share.
Amid global competition, Kung suggests that Taiwan-based firms should have a clear understanding of their own strength. Taiwan still has many advantages including the business climate and mature governing system. In Taiwan, you don't need government connections to be able to operate a business. The Taiwan government also places importance on intellectual property (IP) and institutes laws for IP protection, which favors the development of high-tech businesses. Moreover, its stock market is open and healthy, where share prices mostly reflect earnings and profitability in the long run, rather than market speculation. As such, the Taiwan government should leverage these advantages to attract investments and particularly make active efforts toward encouraging entrepreneurship and early-stage investments in startups. Most of Taiwan's venture capital firms are rather conservative. However, only investments during early-stage development can drive a burgeoning startup scene. In addition, academic institutions can also provide more entrepreneurship courses to help students bring startup ideas to reality.
With regard to startup ideas, Kung suggests that biotechnologies and medical equipment are suitable areas for Taiwan. Taiwan has many good medical colleges, educating abundant professional talent. Acorn Campus Ventures has stakes in several startups endeavoring in healthcare technologies. Kung, however, focuses his investments in startups specializing in optical communication technology, which is more in line with his own expertise.
According to Kung, widespread popularity of cloud computing and large-scale datacenters in recent years has created a great influence on the development of the optical communication industry. Telecom operators and network companies, such as Cisco, generally require optical networks to provide reliable connection. Datacenters, on the other hand, look to speed up data access and thus have higher demand for bandwidth than before. When market demand changes from reliability to speed, opportunities arise. Optical network data rate has evolved from 2.5Gb/s in 2000, 10Gb/s in 2010 to 100Gb/s at present, possibly reaching 400Gb/s in 2019. Kung thinks the optical communication industry still has plenty of opportunities and a great number of startups will keep endeavoring in innovative R&D of related technologies in this area.
In addition to technological startups, with compassion for humanity, Kung has been investing in social enterprises in recent years. By fueling energy into the development of social entrepreneurship, Kung hopes to engage more efforts to help change the world.
(Editor's note: This is part of a series of interviews focusing on the problems and opportunities that Taiwan-based startups face. The interviewees are venture capitalists and angel investors from Silicon Valley and Taiwan.)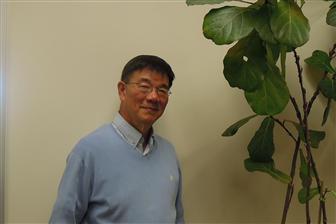 Hsing Kung, LuxNet chairman
Photo: Joseph Tsai, Digitimes, May 2018