Taiwan maker offers smart mattresses to detect sleep quality
Vega Chiu, Taipei; Willis Ke, DIGITIMES
Sleep quality detection entails big business potentials, prompting Taiwan makers to develop smart mattresses or wearable devices installed with sleep sensing systems to collect relevant data for backend medical teams to provide better healthcare solutions, and one of such makers is Green-Sweet Mattress who showcased its Power Sleep-branded smart mattresses at the just-concluded Medicare Taiwan 2018.
CY Liu, president of the company, said that physicians tend to issue hypnotics to patients plagued by poor sleep quality, but taking the medicine is not their best solution as the medicine will slow the rapid eye movement (REM) of patients and undermine their normal memory and learning abilities.
Liu said Green-Sweet can supply sleep sensing system on a rental basis, and users can put the system under their mattresses with a thickness of under 50cm. The system can judge the movement frequencies of users in light sleep and can also identify their shoulder or neck pains, so as to help their medical teams offer comfortable pillows or mattresses.
Green-Sweet also displayed a smart mattress fitted with the sensing system at the show held June 21-24 at Hall 1, Taipei World Trade Center. After a consumer lies on the mattress, the sensing system can figure out his/her stress spread during the sleep in accordance with the data collected by the sensor and simulate his/her spine mode, thus mapping out a mattress exclusively for the consumer, according to Liu.
He continued that if consumers with spine or backbone problems use the firm's smart mattresses, the company will consult with their medical teams over how to ease their problems by adjusting pillows or proposing some suitable physical exercises.
Liu stressed that the value of smart healthcare solutions lies not in the collection of data, but in follow-up consultations with and support from medical teams.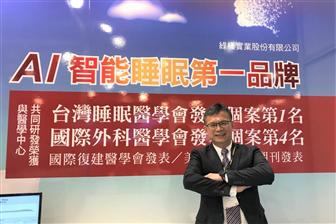 Green-Sweet Mattress president CY Liu
Photo: Vega Chiu, Digitimes, June 2018