HOLUX demonstrates wearable heart-rate smartband - Impulse 8050
Press release
HOLUX, a professional designer and manufacturer of GPS-related products, is focused on sharing the latest technologies and innovative solutions with customers. At Computex 2016, HOLUX will showcase its new heart-rate smartband, Impulse 8050, a high-tech and stylish wearable device. HOLUX will also display its heart-rate smartwatch, handheld GPS devices for outdoor activities, car navigators and digital video recorders for driving safety.
Impulse 8050
The Impulse 8050 is a heart-rate oriented smartband designed for sports and a healthy lifestyle. It integrates the latest fitness monitoring technology to eliminate deviations in calculations due to movement and vibrations, providing precise and continuous heart rate measurements. It is also equipped with pedometer and fatigue detection functions. The Impulse 8050 supports all Android and iOS smartphones via Bluetooth pairing. It tracks the achievement and effectiveness of exercises through the companion phone application, and conducts fitness status analysis and management via cloud integration.
Impulse 8100 - The Perfect Companion for Sports
Impulse 8100 is a smartwatch designed for people who are in pursuit of a healthy lifestyle and convenience in exercise data tracking. It has the most advanced integrated physical monitoring technology and can accurately measure the heart rate for long periods continuously so that users can monitor their exercise effectiveness. It can also detect right before driver becomes drowsy based on patented technology, enhancing driving safety. Daily sleep pattern analysis is also available. Impulse 8100 supports Bluetooth pairing with various smartphones to provide notifications of incoming calls and messages. Users can choose to use their favorite apps to help track exercise results, and the results are integrated into cloud data to perform analysis and management of physical conditions.
SporTrek 1310/1312 - Intensified Training & Improved Performance
Make the most of every sport with SporTrek 1310 - a 3-inch flat touchscreen multi-sport GPS computer that features a high-visibility transflective sunlight-readable display. Providing performance-based training, SporTrek 1310 is the perfect companion for touring, competitive cycling and mountain biking. The device displays a wealth of useful sport data, including speed, barometer altitude, calories burned, cadence, and more. With shock resistance and IPX-7 water resistance built in, the SporTrek 1310 will operate unhindered in any weather. The SporTrek 1310 features a rechargeable & removable lithium-ion battery that lasts up to 12 hours and also can be replaced by an AA battery accessory, providing more convenience for all kinds of outdoor activities. SporTrek 1312 add the support of BLE/ANT+ for connection with accessory such as cadence, power sensors.
GPSmile 6762D - Ensuring Driving Safety
The GPSmile 6762D is a car navigation device with built in HD DVR. Highly compatible with specific navigation maps, it provides the most comprehensive navigation capabilities available in a 7-inch high-resolution touchscreen display. Combined with intuitive software it ensures a highly reliable and secure guidance system for driving. GPSmile 6762D is also a digital video recorder and includes built-in 720P HD DVR recording. Equipped with a 15-degree adjustable lens and 1.3 megapixel image sensor, it provides excellent monitoring and captures the sharpest video and quality photos of every driving journey.
mini3 - Compact & Light Recorder
HOLUX mini3 is a small and light-weight car digital video recorder. It is ultra-small in size and weighs only 44.8g. The mini3 can record video in full 1080P HD at up to 30fps, with a 2-inch LCD screen display that features a 135-degree wide angle for greater field of view. The mini3 is equipped with a 5-megapixel image sensor and F2.2 aperture that records the sharpest video and captures great quality photos for monitoring every journey. The mini3 also supports GPS functions, allowing users to easily connect external GPS cradle and then enable the GPS function to record and display G-sensor data, latitude and longitude (position on map), drive speed and drive tracking.
HOLUX cordially invites you to visit us at Computex 2016, Booth A0326, TWTC Hall 1.
For more product details, please refer to our website: http://www.holux.com/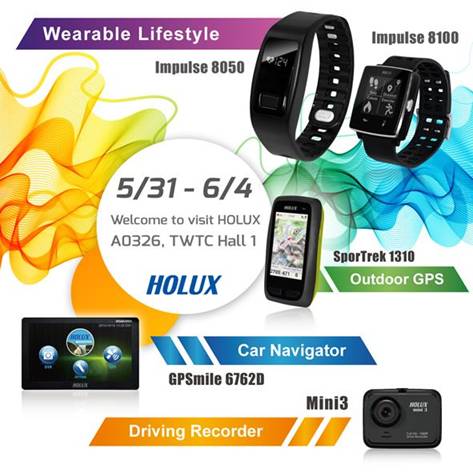 HOLUX at Computex, Booth A0326, TWTC Hall 1
Marketing & Sales Div.
Director
Eddy Huang
TEL: +886-3-6687-000#1380
Mail: eddy_huang@holux.com
Marketing Planning Dept.
Section Manager
Kate Wang
TEL: +886-3-6687-000#1207
Mail: kate_wang@holux.com