Chairman of Acorn Campus Taiwan Wu-Fu Chen, with a record of having founded 13 companies within a 15-year period and having all of them either acquired or listed, clearly showed his passion and enthusiasm for entrepreneurship during a recent interview by Digitimes. And he gave an in-depth analysis based on his experience on what would be the best industries for Taiwan to invest its resources in for entrepreneurship and made some suggestions to Taiwan's young-generation entrepreneurs and its government.
Medical technologies and drones are the best entrepreneurial areas for Taiwan
Chen said that providing financial support for entrepreneurs is only a small part of the work for angel investors, whose true value lies in their help to find potential clients and partners, seek management talent, look for more funding and give suggestions and strategic advices. While in Silicon Valley, Chen assisted a group of international students from China to establish an entrepreneurship team called Innolight. The team's main products were optical communication modules that were originally designed to be used during component testing.
Chen later recommended the team to Google's datacenter business unit which needed such a module for in-house assembly of the tech giant's equipment. Because of Google's strong demand for the module, the entrepreneurship team eventually received investments from Google, and its annual revenues have now reached US$1 billion.
Chen also made many investments in companies in the medical care sector, including Eureka Therapeutics, a biotech pharmaceutical firm devoted to research of T-cell cancer treatment. Via its technical platform, users are able to create immune cells combining with antibody to kill cancer cells.
Another case Chen invested in was Crown Bioscience International, a contract research organization (CRO). CROs' services are a rather important part of the pharmaceutical industry's ecosystem, helping accelerate new medicines' development. The company went public on Taiwan's over-the-counter (OTC) market after Chen suggested the team come to Taiwan for IPO.
The company did not perform well in Taiwan, whose political climate at the time was not friendly toward the biotechnology industry and the company was later acquired by a Japan-based firm, he said.
Despite the failures to link up the two companies with Taiwan investors, Chen still believes medical technology and digital medical care are the two application fields that Taiwan's entrepreneurs should seriously consider. Taiwan's entrepreneurs should gear up efforts developing Internet of Things (IoT) and artificial intelligence (AI) technologies. The high standards of Taiwan's medical care services, and its advanced micro-electromechanical technologies give the country a competitive edge in medical care equipment R&D with constructive collaboration between doctors and engineers.
Chen said the development of medical care equipment sees almost no limits, with new applications such as optical examination and image analysis keep emerging.
Drones are another promising sector for Taiwan. In addition to entertainment, the flying machines are a hardware platform that can be applied in both commercial and industrial fields. Since drones for the two fields require support from precision machinery - a business Taiwan is strong at - investing in drone businesses should be a good target for Taiwan's entrepreneurs.
The government and startups should be prepared
Chen encouraged entrepreneurs that want to begin their own businesses to be prepared both mentally and practically. Entrepreneurs should be mentally prepared for any unexpected problems, devoted to what they want to do, and look for suitable mentors for assistance.
Chen pointed out that for entrepreneurship, changes are the only "constant." If entrepreneurs are mentally prepared for any accidents and anomalies, they will be able to resolve the problems more calmly. Entrepreneurs should learn to treat frustration as a learning experience instead of a failure, Chen added.
Furthermore, entrepreneurship work is unlike regular jobs, and entrepreneurs need to obtain their families' support in order to overcome difficulties. Finding mentors can raise entrepreneurs' confident, helping them achieve a sense of approval. Mentors can also act as counselors, sharing their experience and ideas with entrepreneurs to inspire new thoughts.
As for the practical preparation, finding a manager with experience in business operation is necessary for an entrepreneurship team as the person is the bridge among investors, the board, the management team, employees and clients, and this person needs to have an understanding on how each of them is related to others.
Most importantly, the manager needs to be able to view things from a market perspective and have an eye for worldwide markets. Most of Taiwan's entrepreneurship teams are technology-oriented, conducting their R&D without considering matters on the market side or how they can make their products more user friendly. Many of Taiwan startups' products only see demand from friendly users, and the product developers tend to respond to criticism by putting the blame on users' failure to operate their products properly.
A manager should not consider products that satisfy solely demand from the Taiwan market, Chen said. When a product is being designed, the manager should begin considering how it can be marketed globally.
"The world is running fast and if Taiwan does not pick up its pace, it will be surpassed really soon," Chen noted. Speed is the key for Taiwan's success and to improve Taiwan industries' worldwide competitiveness, its government must be keenly encouraging strategic investments, providing support to early-stage entrepreneurship cases, which have higher risks of failure.
The Taiwan government, Chen said, should also ease its regulations - a move it must make, judging from the two Silicon Valley-born projects he had tried to promote in Taiwan, but to no avail due to the government's slow decision-making process and response.
If the government is interested in building a medical technology industry, it should also improve related clinical trial standards, adjust regulations, and invest resources to upgrade the Taiwan Food and Drug Administration's (TFDA) abilities in conducting audition and certification.
(Editor's note: This is part of a series of interviews focusing on the problems and opportunities that Taiwan-based startups face. The interviewees are venture capitalists and angel investors from Silicon Valley and Taiwan.)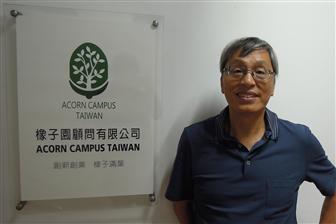 Wu-Fu Chen, chairman of Acorn Campus Taiwan
Photo: Joseph Tsai, Digitimes, May 2018