Computex 2018 Best Choice Award goes to Litemax
Press release
Litemax Electronics, a leader in enabling intelligent vertical market platforms, is exhibiting at Computex 2018, one of the most prominent trade shows specializing in IOT. Litemax has enjoyed a strong reputation in high brightness, resizing LCD, with numerous high-profile success stories around the world.
Recently hundreds of units of Litemax's resizing LCD series, known as Spanpixel, were chosen to improve the passenger experience in Jakarta airport express. Litemax Spanpixel is a custom-sized, stretched display that fits right in on-board trains. In addition, all 28-inch Spanpixel models are certified with EN50155, an internationally recognized certification designed for rolling stock systems in the transportation sector, covering electronic equipment used on rolling stock for railway applications. With EN50155 certification, Litemax Spanpixels are proven to be anti-shock, anti-vibration, low in EMC noise and highly reliable - perfect for transportation.
Litemax is also working closely with Intel to develop the new SDM (Smart Display Module) series. In the IOT era, screens need to be connected, with the beauty of SDM, you can swap and upgrade easily, depending on the calculation power you need. Litemax is showcasing turnkey solution of facial recognition with software partner TCIT & Quividi to be a market ready solution.
As Litemax's resizing technology advances, more and more innovative designs begin to roll out. At this year's Computex, the world's first resized, 4K2K LCD Curvedpixel displays will be showcased to set the standard for all casino gaming display makers. The 4K2K Curvedpixel models come in several sizes engineered for the best practice in the vertical, ranging from 43-inch to 51-inch.
2018 Computex BC Award : Litemax IPPS-2118-KBL5-WP00
This product is one of the few ultra-thin touch-control computers that has both ultra-high brightness and IP68 waterproof for the entire machine; it is applicable for various rigorous environments such as offshore oil-drilling platforms and other high-salt, high humidity environments.
This product uses AOT(Advanced Optibond Technology) to increase the quality and reliability of the entire system, an internal/external pressure balancing system to allow it to adapt to different altitudes and temperature changes, and it has a built-in automatic temperature control design.
IP68 Panel PCs - protected against dust and water
The abbreviation IP stands for International Protection and classifies electronic devices into different types of protection with regard to their suitability for various environmental conditions. Therefore so-called "IP codes" are used. The first digit stands for protection against dust, the second digit for protection against water.
The rugged panel PC from the Litemax IPPS-2118-KBL5-WP00 are categorized with an IP68 protection class and are dustproof and can even withstand submersion in up to 1m of water. High tolerances also apply to the operating temperature range of -20 degrees C to +50 degrees C. The extremely sturdy touchscreen panel PCs are therefore well prepared for harsh industrial environments and outdoor applications.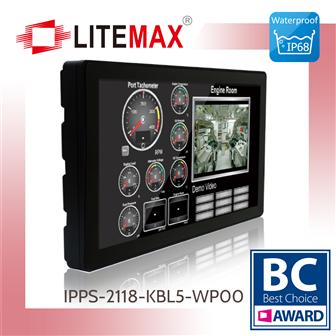 Litemax IPPS-2118-KBL5-WP00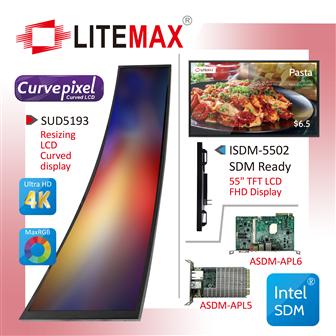 SUD5193 / ISDM-5502 SDM Ready
DIGITIMES' editorial team was not involved in the creation or production of this content. Companies looking to contribute commercial news or press releases are welcome to contact us.