Taiwan Star reports positive EBITDA for April
Max Wang, Taipei; Steve Shen, DIGITIMES
Friday 18 May 2018
Taiwan Star Telecom has seen its operations reach a milestone in April during which its EBITDA (earnings before interest, taxes, depreciation and amortization) has become positive, three months ahead of target, according to company president Cliff Lai.
The company will strive to keep the EBITDA in the positive territory through year-end 2018 and begin generating profits in 2019, Lai said.
The positive EBITDA came as the company has managed to ramp the number of its telecom service subscribers to 2.06 million as of the end of April, an increase of 21% from a year earlier.
The number of its base stations reached 1.1 million at the end April with plans to increase this number to 1.4 million by the end of 2018, a 40% increase from a year ago.
Revenues for the first four months of 2018 totaled NT$4.5 billion (US$150.37 million), including NT$3.4 billion generated from mobile telecom services, which were up 19% on year.
For the upcoming 5G commercial services in 2020, Taiwan Star has signed a MoU agreement with Nokia to cooperate in the field, including the establishment of NB-IoT networks, Lai revealed.
Taiwan Star's IoT services has secured over 300 enterprise subscribers from 12 industries such as IoV, surveillance, industrial control, energy saving and smart home.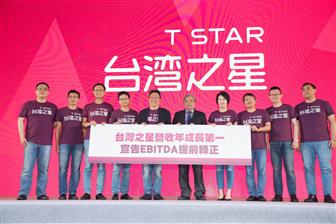 Taiwan Star sees its mobile services pick up robustly
Photo: Michael Lee, Digitimes, May 2018