AI is the future of the surveillance market: Q&A with Max Yang of GeoVision
Joseph Tsai, DIGITIMES, Taipei
GeoVision is a Taiwan-based surveillance solution developer in business for over 20 years. Although not as big as some of the international firms, the company is still one of the top-50 players worldwide. But growing competition in the traditional legacy surveillance sector prompted GeoVision to shift its development to artificial intelligence (AI) technologies several years ago, and has since attained high levels of competitiveness in the AI sector. The company's new edge computing type of AI surveillance products are giving GeoVision a good position in the AI surveillance market.
Digitimes recently had an opportunity to talk to GeoVision's Max Yang, director of Sales of New Product Division. He talked about the surveillance market's current status and GeoVision's plans for the market.
Q: What kind of company is GeoVision? What business segments does GeoVision mainly focus on?
A: GeoVision has been operating in Taiwan for over 20 years, focusing primarily on developing image analysis technologies and the integration of surveillance software and hardware that cover segments ranging from back-end server systems to front-end cameras.
Among the surveillance applications, our expertise is on the security field and facial recognition is a key technology that GeoVision has been developing for its latest products during the past couple of years and will be our promotion focus for 2018.
As for our business model, GeoVision is a manufacturer and also a vendor of its own-brand surveillance products. But it has begun providing ODM services to support some of our regional brand clients since two years ago. We have established a new department for the ODM business, which is currently contributing about 20% of the company's revenues.
Q: What is the surveillance market's current status?
A: Currently, the surveillance market has two major sectors: the traditional legacy surveillance and digital artificial intelligence (AI) surveillance.
The traditional legacy surveillance system is composed of conventional cameras and a back-end server. The back-end server retrieves video data from the cameras for storage and users are able to view the recorded footage via the server system. The sector is currently being dominated by China-based suppliers with the top players accounting for 50% of the sector's shipments worldwide.
Although customers are able to obtain inexpensive solutions from these China-based suppliers, there are security concerns since most of their products use the same hardware configurations and software systems to cut down costs. And these suppliers usually do not bother to encrypt the video data or enforce security measures on the surveillance system's management platform, allowing hackers to easily gain control of their systems.
With dwindling profitability from the traditional legacy surveillance sector, Taiwan and other international surveillance product firms have mostly turned to the newer-generation surveillance camera systems such as those integrated with AI support.
The largest player of the digital AI surveillance sector is Germany-based Bosch, which has mainly been obtaining orders from international airports.
Q: What is GeoVision's business strategy for the surveillance market?
A: GeoVision will continue placing efforts onto its traditional legacy surveillance systems and is at the same time spending resources on the development of AIoT products that integrate AI into Internet of Things (IoT) surveillance devices, targeting market segments including smart retailing, smart factory, smart manufacturing and smart medical care.
For the AIoT business, GeoVision is pushing direct partnerships with manufacturers and factories to provide services such as upgrading their existing systems to feature AI support or planning a comprehensive surveillance solution for their new facilities. The partnership will allow GeoVision to fully understand clients' demand and provide corresponding solutions to satisfy their needs.
Q: Where are GeoVision's main markets? Any new markets that GeoVision will be targeting?
A: North America is currently our largest market with 60% of our revenues generated from the region. At the beginning, GeoVision's business model in North America was to supply clients with customized surveillance software that could work with their existing low-resolution camera systems but provide more functionality. But as these clients started to see the needs to upgrade their systems to high-resolution digital camera solutions, we became their first choice for procuring surveillance products.
North America will remain a key market for GeoVision in 2018 with Japan to also be a major target country for our AIoT solutions in 2018. We have also partnered with a local home security service provider in Taiwan to supply our AIoT products to the market.
As for Southeast Asia, GeoVision does not have a branch office in the region and is mainly partnering with local distributors to sell its products. We are aware of the region's growing demand for IT applications over the past few years and will consider establishing an office there if we are able to identify any good opportunity or local partner that can help us quickly expand into the market.
Q: What is GeoVision's competitiveness?
A: With the traditional legacy surveillance sector mired in fierce price competition, AI technologies are the key to differentiate the digital AI surveillance system sector from the traditional legacy surveillance one. For GeoVision, the company's R&D focus is facial recognition technologies and applications.
Compared to others, the special thing about our facial recognition technologies is that we have implemented the innovations onto the cameras instead of the back-end server. The concept of the edge computing surveillance system means our clients do not need to fully replace their existing systems in order to acquire AI surveillance functions for their facilities.
Currently, there are three types of AI facial recognition surveillance systems available in the market. The first type is through support from cloud computing service providers such as Google, Amazon, Tencent and Alibaba. The surveillance system can perform the facial recognition functionality by sending video data to one of these players' cloud computing platforms for analysis via high-speed Internet. However, the downside of the process is it involves high costs for the service and Internet support. Another key issue is that some companies do not wish to send their surveillance data to outside companies due to security concerns and these problems have lmited demand for this type of serivce.
The second type is the full surveillance solution with the back-end server system being the one handling the facial recognition task. But such a solution will require clients to replace the whole surveillance system and add up costs.
The third one is the edge computing-type surveillance with the face recognition handled directly by the cameras, and this is the direction that GeoVision is currently devoted to. Our cameras feature application processors from Qualcomm and memory for processing facial recognition functionality and clients can easily view any information the cameras analyze and store.
Our cameras are able to recognize 10 faces at once and are suitable for automated employee time recording and office building access control to help keep intruders out. The systems can also be adopted in retail stores where the cameras can detect the stores' MVPs or any specific person and create alerts to notify store clerks.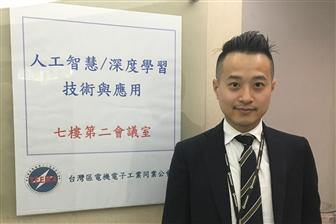 Max Yang, director of Sales of New Product Division, GeoVision
Photo: Company