Shaping a new concept of distributorship: An interview with Frederick Fu, president of Avnet Asia Pacific
Sponsored content
The global semiconductor industry posted its highest-ever annual sales in 2017. With major technology players all wanting a slice of the Asia Pacific market, the strategies and operations of Avnet, a leading global technology distributor and solutions provider, play a crucial role in ensuring the company's success.
In an exclusive interview, Frederick Fu, president of Avnet Asia Pacific, shares his views on the trends and changes of the global electronics industry in 2018 as well as Avnet's key strategies in the region.
Smart applications built on IoT and cloud computing are the global trends for 2018
On the outlook of the global electronics industry in 2018, Fu thinks the industry is trending toward "smartization" - including IoT and cloud computing applications that are already prevalent in the market. Businesses are able to provide better service models by leveraging smart applications for data collection and analysis.
Fu further explains that IoT is not new in the industry. Once low-power wide-area network (LPWAN) technologies become widely available, we can expect to see a more aggressive adoption of IoT. Take smart buildings for example. It used to require electrical wiring for end devices in a building to be able to engage in communication. Now this is possible simply by putting batteries and sensors in end devices. The batteries can last up to five years without the need for replacement. Wiring installation is also not necessary so this saves a great deal of time and money in planning and management.
In addition, some recent hot topics including advanced driver assistance systems (ADAS), autonomous cars, and artificial intelligence (AI) also have critical influence on the electronics industry. For instance, semiconductor components in an automobile previously accounted for only US$20 to US$30 of the total cost, but now they run up to US$100. With cars becoming increasingly connected, electronics components may account for more than half the cost of an automobile in the future. Tapping the growing opportunity in IoT demand, in the case of ADAS for instance, Avnet has both hardware and software solutions for ADAS that has been implemented in China.
The role of distributors is also undergoing changes along with the shifts in the electronics industry. Distributors used to be seen as the middlemen buying and reselling products but now their role goes beyond that. Avnet today serves as the bridge between suppliers and businesses that actively look to provide IoT products and solutions. This has become part of Avnet's business strategies, where its ecosystem connects the different parties with the latest technology– ranging from system integrators, service providers, device manufacturers, to cloud platform providers, and components suppliers – to provide an integrated approach to support and drive innovation and IoT initiatives for its customers.
Eyeing Taiwan's advantages, Avnet establishes a wireless charging lab
According to Fu, Taiwan's electronics industry is aligned with global developments, including the smart trend arising from IoT and cloud computing advancements. Despite declining performance in the smartphone and tablet markets, there are still growth opportunities in Taiwan. In terms of IoT developments, the Taiwan industry has built up a solid foundation in network gateways and has been supporting many technology giants. The achievements in these two segments complement each other. Furthermore, Taiwan-based IC designers are gearing developments toward RF, mixed signal and MCU chips, also in consonance with the popular trend. They additionally have geographical advantages with Taiwan's close proximity to China as well as robust foundry technology.
As one of the company's biggest market in this region, Avnet is expanding its business in Taiwan, including Taichung and Kaohsiung, to increase customers based in central and southern Taiwan. Its efforts are generating results with a growing number of customers from that region, focusing on factory automation and measuring instruments. Fu indicated Taiwan is an important market for Avnet and Avnet will stay committed to the Taiwan market. It has recently set up the first spec 1.2.4 wireless charging laboratory to support the growing demand for wireless charging and help customers accelerate the process of certification. Equipped with WPC approved test equipment nok9 CATS I and CATS II, Avnet has also formed a partnership with a test lab to ensure stringent test criteria are adhered to. Avnet effectively shortens the certification process and lead time leading to faster product launches.
Expanding business scope, a distributor does more than distributing
With regards to Avnet's short-term market strategies, Fu pointed out that Avnet will continue to provide design and supply chain capabilities, as well as product development to market. The maker and startup markets are also among Avnet's focus segments. Avnet has been undertaking a series of acquisitions and expansions since 2016 to accommodate the small-quantity large-variety characteristic of business, which is also spurring a rapidly growing number of makers and startups.
"Small and medium enterprises are not afraid to reinvent the wheel to bring in a new wave of innovation and trends. They have great potential for rapid growth in the future or stand a chance of being acquired by big companies. Avnet has invested resources in building a connected ecosystem to help startups become the next unicorn," said Fu.
IoT as well nurturing startups remain the core of Avnet's focus in the coming year. Avnet will continue to invest in the IoT space to continuously enhance our IoT solutions to the market. As a key differentiator from other distributors, the company also helps to bridge the gap between the startups and market to guide them from idea to production to market.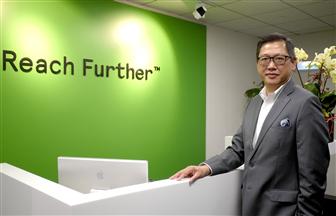 Frederick Fu, president of Avnet Asia Pacific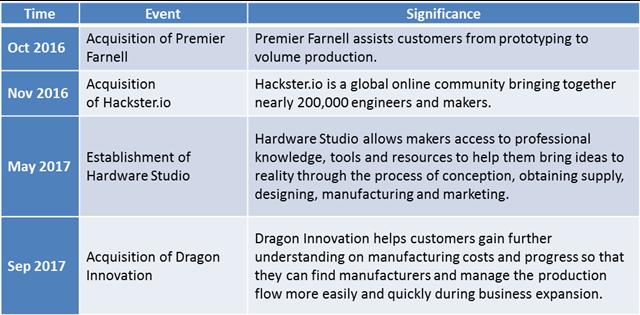 A chronicle of Avnet's recent business expansions
DIGITIMES' editorial team was not involved in the creation or production of this content. Companies looking to contribute commercial news or press releases are welcome to contact us.