There were major management changes at MediaTek last year, showing the IC deisgner's intention to regain its growth momentum. The changes included the appointment of Joe Chen as MediaTek president late in the year.
In a recent interview by Digitimes, Chen talked about goals of the company, how MediaTek will improve its gross margin and restore its lost share of the smartphone SoC market at a gradual pace. He also shared his opinions on the smartphone market growth drivers in 2018, the ongoing tight supplies at foundries and certain upstream components makers, and competition from super large-scale fabless companies. The following is an exceprt of the interview.
Q: As MediaTek's new president, what's your short-term, mid-term and long-term goals for the company?
A: MediaTek's short-term goal is to get the company back on the growth track in terms of revenues, gross margin and profits. We stay focused on our handset SoC portfolio which will be enhanced further to include solutions for smartphones that come with more new features, and 5G devices.
MediaTek is gearing up for the new generation of mobile technology. We are engaged in the development of 5G solutions, which will be ready for customer roll-outs of new products by 2020. Meanwhile, MediaTek has put increased focus on the quality rather than quantity regarding our solutions for 4G smartphones, which continue to come with innovative built-in features. We believe the efforts will gradually help improve the company's gross margin and restore our lost share of the smartphone SoC market.
In addition, MediaTek has stepped up efforts to diversify its offerings to include those for voice-assistant devices, smart home devices and IoT-related applications. In the mid-term, we want to expand our target markets with key technologies extended from our existing Wi-Fi technology assets.
As for our long-term recovery strategy, MediaTek is exploring new products and market opportunities to drive our business growth five years from now. Automotive electronics will be the next first target of MediaTek with regards to its long-term business growth. Applications including unmanned vehicles and autonomous driving have already drawn our interest.
Besides, MediaTek has in recent years developed its ASIC business which could be another driver of the company's future growth.
Q: Whould you share your opinions on the key drivers of the 2018 smartphone market?
A: The smartphone market situation seems unfavorable in the first quarter of 2018, with issues such as high inventory levels throughout China's handset industry supply chain. Nevertheless, the overall smartphone demand for 2018 should be higher than the level a year earlier. MediaTek expects customer orders and end-market demand to improve at a gradual pace later in 2018.
MediaTek is also optimistic new models with innovative features, such as AI, will stimulate demand in this saturated market. MediaTek has introduced its new solution to bring AI features to smartphones without the high price tag. With the built-in MediaTek NeuroPilot AI technology, the new chip brings premium features like deep-learning facial detection, object and scene identification, fluid gaming experiences, and smart camera functions.
Q: How would you see the competition between smartphone vendors with their in-house developed SoCs and dedicated mobile SoC developers in 2018?
A: For MediaTek, we remain focused on enhancing our offerings and satisfying efficiently our customers' needs. Unlike device vendors that have their own chips, MediaTek's business model won't put the company in a conflict of interest with clients.
In addition, as the world's second-largest handset SoC supplier, MediaTek has economies of scale to provide more competitive products and services.
Q: How does MediaTek address the tight supply of the foundry services, as well as certain component shortages?
A: The supply of 28nm chips is sufficient in the short term, with a guarantee from our 8-inch foundry partners with their vast economies of scale. But for advanced FinFET solutions, the supply is pretty tight.
MediaTek has already partnered with TSMC to develop its 12nm FinFET solutions, and has had our foundry partner's commitment to the chip supply during 2018.
MediaTek has also moved to build up its component inventories in advance to ensure its sufficient supply to customers in the second half of 2018. We don't think component shortages will affect our shipment schedules.
Q: M&A activities have created more super large-scale fabless companies. How do you see the trend?
A: Consolidation among semiconductor companies is inevitable. In fact, M&A activities have been ongoing for so many years. MediaTek is aware of the trend. We want to make sure our technology and work force are competitive so that we are able to plan early and grasp opportunities.
In the process of acquiring MStar Semiconductor, MediaTek already recognized the industry trend. All we have to do is to continue our innovation and to work closely with our customers.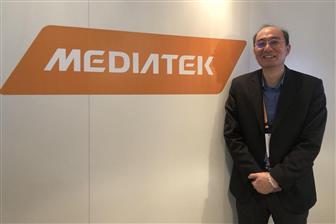 MediaTek president Joe Chen
Photo: Cage Chao, Digitimes, March 2018