With steady market growth and increasing economies of scale, India is an important alternative to China for countries that seek balanced industrial developments and try to avoid overdependence on the China market. Businesses from Taiwan and other countries have been keen to expand into India. Many world-leading companies such as Microsoft, Samsung, Qualcomm and MediaTek have focused only on setting up R&D bases in India, while Amazon is willing to make huge investments targeting rising e-commerce opportunities in India. However, developments with respect to manufacturing or software-hardware integration seem to be making little progress. As for the partnership between Taiwan and India, will it grow deeper or continue to run idle beyond 2018?
Immense business opportunities in the next decade
According to BCG, by 2025 the average age of Indian people will be 29 years, the Indian middle class population will increase by 150 million and India's GDP will reach US$3.6 trillion. The Indians are convinced that their country will become the world's most appealing emerging market.
India has vast regional differences. Punjab has strong food processing industries. Gujarat has booming shipbuilding and petrochemical sectors. Noida, located in Uttar Pradesh in close proximity to Delhi, hosts a cluster of global handset makers. If you visit only the developing cities such as Noida and Gurgaon, you might agree that India has tremendous potential and will grow rapidly to become the next China.
My first visit to India 26 years ago left me with an impression that India was a hopeless country. Poor people crammed in slums seemed to have no future. Much has changed since but Delhi, despite its abundant green cover, is still plagued by heavy smog as the construction of subways and roads rarely takes environmental protection into consideration, causing clouds of dust to rise off the streets. Poor families burning coal to keep warm in winter makes Delhi's air quality worse. Taiwan's ambassador in India, Kwang-Chung Tien, who has lived in Delhi for five years, says there are at least 7,000 restaurants in Delhi offering barbecue food, which aggravates the air pollution problem. The roads leading to Gurgaon widened for the purpose of collecting tolls are crowded with more cars. The network of side roads seemingly disorganized to foreigners actually provides convenient shortcuts.
Since Modi took office in 2014, his administration has instituted e-government, created job opportunities and planned 100 smart city projects with 99 cities already selected to participate. However, only less than 10% of the cities have actually kicked off the projects. This is the so-called "Indian way."
Gurgaon and Noida, two satellite towns of Delhi, have become India's iconic high-tech centers. Gurgaon, north of Delhi, used to be a small village 30 years ago but it is gradually turning into a developing urban settlement with foreign investments funneled into the area, much like the rise of Shenzhen in China. Noida hosts a cluster of emerging industries such as handsets. Samsung has more than 5,000 employees stationed in Noida along with international handset component suppliers MediaTek and NXP. India's own leading handset maker Lava is also based here.
It is no doubt that India is making leaping advances. Delhi's Indira Gandhi International Airport was ranked the second best in the world according to the 2016 Airport Service Quality (ASQ) report. Hordes of seemingly hopeless young people that were usual sights on the streets of India in the 1990s are no longer seen. Gone are also beggars and homeless people from the streets of Delhi. Traffic congestion is still common but the condition is a lot better than what is seen in the capitals of many ASEAN countries. Cars can run at normal speed on some sections of the roads, no longer having to watch out for cows, camels and even elephants coming out of nowhere.
India's defense budget accounts for 2.2% of its GDP, lower than America's 3.3% and Korea's 2.6% but higher than China's 1.9%. But the ratio of India's defense budget among the country's total budget falls between 16% and 17%, a lot higher than many other countries.
Prime minister Modi's hometown Gujarat, where he served as its chief minister for many years, looks to become India's Detroit. The manufacturing plant of India's economy car TATA Nano came to Gujarat when West Bengal, whose state capital is Kolkata, rejected the opportunity. Now half of the Nano cars on the market are made in Gujarat.
Sanand, located close to Ahmedabad, has become India's automobile hub where TATA, Suzuki Motor, Hyundai Motor, Honda and Hero Motor Corp all have manufacturing plants. The once struggling TATA Motors now has 4,500 employees and its factories are running at full capacity. It also plans to make four-wheel drive cars in Sanand in the future. Furthermore, Uttar Pradesh is home to 200 million people and therefore plays a pivotal role in elections.
The 'Act East' policy and flow of talent
India takes great pride in its IT service industry, valued at US$80 billion for the fiscal year 2017 according to KPMG, of which US$65 billion came from exported services and US$15 billion from domestic information services. The amount is estimated to grow to US$87.1 billion in 2018. A total of 3.9 million people were hired in the IT industry in 2017, contributing 7.7% of the country's GDP. The Indians are confident that they hold at least 35% of the global outsourcing BPM market with promising outlook driven by flourishing developments such as artificial intelligence (AI).
Many international companies look to hire software engineers from India. However, Indian software engineers have varying levels of skills. Many of them entered the workplace right after completing undergraduate studies. And a generation of more highly-skilled engineers with graduate degrees will begin to emerge after 2025 - a generation of people whose parents entered the workplace in the early 1990s.
According to the Indian newspaper Economic Times, the top five software outsourcing companies - TCS, Cognizant, Infosys, Wipro and HCL Technology - added 20,687 employees in 2017, not only hitting a new low in eight years but also far below the 79,594 employees added in 2016. It is generally believed US President Donald Trump's hardline immigration policies and Britain's exit from the EU have far-reaching effects on India.
Some commentators think the changes in automation and software technologies have prompted a critical transformation of the software outsourcing business model. More and more companies are after non-linear growth. According to statistics from the five leaders, the average revenue per employee is US$52,584. The size of staff is increasing at a slower speed, which signifies a change in India's software outsourcing business model.
Recent college graduates hired by world-class enterprises such as Microsoft, IBM, Intel and Samsung as software engineers are given a starting salary about INR1.2 million (US$18,432). Taiwan-based companies like MediaTek pay an annual salary about INR700,000, still much higher than local businesses' INR250,000.
The seemingly drastic difference in salaries is characteristic of the Indian job market. Graduates from engineering schools in India exhibit very different competency levels. Even if employers are willing pay high salaries, they may not be able to recruit graduates from first-tier universities. Opportunities for Indian engineers to start their own business began to emerge in 2012, but unless startups can offer attractive compensation, graduates from top colleges will not choose to work for little-known companies.
India has 4,000 higher education institutions but the quality of education they provide is not uniform. More than 150 colleges are said to shut down every year due to poor performance. No one knows the best way to recruit first-rate talent.
Partnership between Taiwan and India
Bilateral trade between Taiwan and India amounted to US$7 billion in 2013-2014 but decreased to US$5 billion in 2017. India exports food and satellite products to Taiwan while importing a wide range of products from Taiwan. The two countries maintain quite a balanced trade relationship with Taiwan having a US$1 billion trade surplus. There is tremendous room for growth of the partnership between Taiwan and India.
During a recent visit to India's Ministry of Electronic and Information Technology, we met with joint secretary Sanjay Kumar Rakesh. According to Henry HH Chen, who has been director of the Science and Technology Division, Taipei Economic and Cultural Center in New Delhi for more than two years, the Indian central government has a very complex organization. In general, the highest-ranking official leading a ministry is called the minister. A union minister usually oversees multiple ministries - a role similar to that of a minister-without-portfolio. A secretary is the equivalent of an administrative vice minister who is actually in charge of the implementation of government work. The joint secretary and additional secretary are department or section chiefs.
According to Sanjay, India's high-tech development is geared toward "Digital India" and "Electronic India." The goal is to make India's own products to satisfy the market demand of more than 300 million handsets per year and to become 100% self-sufficient in handset component supply within 10 years. India has 20 so-called electronics manufacturing industry clusters. However, India has great geographical differences. For example, Delhi struggles with water shortage while the eastern regions have adequate water supply. If water resources are a concern, companies had better choose industrial sites in the eastern regions.
The Indians used to believe that Taiwan would be an ideal partner. They wishfully thought Taiwan manufacturers would scramble for India's tremendous market potential. However, this never happened.
India is a big country with a high self-esteem. It has strongly supported the People's Republic of China since the communist regime came into being in 1949. There had been practically no relationship between India and Taiwan until 1995. But still, Taiwan has little control over its relationship with India - a relationship which is in fact subject to the political and economic ties between China and India.
The Lite-On exeuctive in charge of the company's factory establishment in India said the plant built in October 2017 as required by Oppo has 1,000 workers and a capacity of making two million chargers for mid-range and high-end phones per month. However, all kinds of taxes and the market structure make the Lite-On plant virtually unprofitable. According to Lite-On's executives there, product prices and rural markets still play critical roles in determining whether a company can be successful in India. However, if all efforts are focused on the low-end markets, a company is at the risk of incurring heavier losses.
The Indians may not be as aggressive as the Chinese in pursuing wealth. They may desire a bigger fortune but still want an easy life. That may be the difference between the Indian and Chinese peoples.
(This is the fourth installment of an article about India's IT industry and market written by Colley Hwang, president of Digitimes.)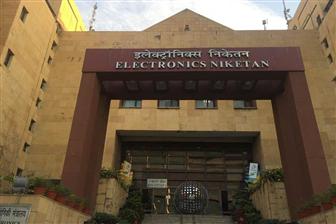 India's Ministry of Electronic and Information Technology
Photo: Colley Hwang, Digitimes, February 2018