We are enjoying all the benefits from different mobile technologies and innovative solutions. Advances in 5G connectivity, virtual reality (VR) and Internet of Things (IoT) are changing the way telecoms, electronics brands, manufacturing vendors, IC design houses and semiconductor firms think about mobility, while opening up new opportunities in design, applications and usage scenarios.
Computex Taipei has long been one of the most important electronics exhibition events worldwide for ICT professionals and related executives. It is also the best showcase for industry players and product manufacturers to demonstrate their innovative strengths. On June 1, 2016, Digitimes hosted Computex 2016 Mobile Technology Forum, featuring professionals and executives from various sectors.
Acer's BeingWare
Maverick Shih, president of Acer's BYOC (Bring Your Own Cloud) and Smart Products Business, gave a presentation at Computex 2016 Mobile Technology Forum on "BeingWare creates new value for mobile industry." BeingWare is a brand new concept that Acer introduced at the beginning of 2016. The vision of BeingWare is to create vertical business models leveraging intelligent connected devices. Acer used to be a hardware-centric company in the market. Through BeingWare, Acer is looking to adopt flexible product strategies to bring the best user experience on all device categories. In the past it would have been difficult to apply one user experience across such a wide range of devices and contexts. Integration with services empowers BeingWare applications to provide user-centric services and.
BeingWare, in short, is combining hardware, software and services all together. Shih illustrated such integration with several projects. A biking computer product called Xplova X5 is aiming to fulfill cycling community requirements for sharing biking routes information, real-time tracking information, and video recording. Another product concept called Grandpad is an application for seniors to reconnect with family members and friends. This product enables built-in LTE connection for making phone call, sending email, sharing photos and video clips for the entire family members.
For IoT solutions, there is the CloudProfessor education computer which runs on Windows 10 and enables Scratch. And BeingWare is set to explore the world of VR with the signing of a letter of intent between Starbreeze AB and Acer to form a joint venture to bring head mounted displays to the professional- and location-based entertainment market
VIA USB-C total soultions
David Hsu, VIA Labs associate VP of product marketing, talked about "USB-C Second Wave: Converting Applications into Revenues." He said the first wave of USB-C was from 2015, strongly supported by Apple, Google, and Microsoft in the launches of MacBook, Pixel and Lumia 950XL. For USB-C, VIA has released three types of configuration: (1) High-end mode using Intel thunderbolt 3.0 controller with 20Gbps per lane and 40Gbps in maximum by 2 lanes, requiring external Power Delivery USB controller; (2) mainstream mode, USB 3.1 gen1 & gen2 for data transmission, requiring external Power Delivery USB controller; and (3)entry-level mode using on-board or discrete USB3.0/3.1 host and no support PD.
The chipset lineups provide several turnkey solutions including:"Host with USB-C" for motherboards or add-on card solutions; "Hub with USB-C" for standalone hub or docking stations; "SATA with USB-C" for USB external hard drives; and "DP-ALT mode" for video dongle or multimedia docking station. These turnkeys cover almost 85% design-in projects for USB-C electronics devices in the market.
But as Hsu pointed out, starting the race early is important, but only the results matter. The USB-C trend is starting slow because mobile devices have yet to implement USB 3.1 or USB-PD features and end users are confused about USB-C products. So Hsu introduced the concept of second-wave USB-C. He said more solutions aim at the right applications through VIA's new chipsets. He concluded that the USB-C market will rely on launching the right products at the right time.
DTS's immersive audio solutions for VR and IoT
DTS technology is widely adopted. Vincent Ting, DTS APAC sales director, indicated in his talk, "DTS Immersive Audio, VR and the Internet of Things," that DTS has been working hard to tackle VR and transform 2D sound into an immersive, 3D audio experience. DTS have now developed the immersive audio solutions based on object-oriented audio formats. Unlike traditional audio mixing, which associates a sound with a particular speaker on a 2D plane, object-oriented audio technology treats each sound as an individual object. When the sound is treated as an object, it gives a lot of freedom for sound designers to use it in TV games, movies and other multimedia contents. Where is the sound object located? What direction should the sound move along the sound field and at what speed? Those kinds of questions are going make the contents more real and become a really big deal for home theater and VR's future.
DTS technology, Ting cited, calculates each combination of speakers working together to reproduce that sound in the room. Another feature unique to DTS is its ability to customize the listening experience. If users watching a movie have difficulty understanding the dialogue, DTS will allow them to adjust just that element of the soundtrack, so that they can hear it more clearly.
For IoT solutions, Ting introduced a remote speaker with LED lighting solutions. This unique device is a dedicated design for fulfilling the home safety requirements.
Macronix eyeing LTE for IoT
Mirian Kuao, Macronix senior marketing manager, in her talk, "Innovative Wireless Connectivity to the IoT World," noted that 2G communication services are becoming history. For example, in North America, AT&T will shut down its 2G service on December 31, 2016. The telecom service providers in Australia, Singapore and Canada all have similar schedules for terminating 2G services.
Narrow-Band IoT (NB-IoT) or LTE for IoT is an important technology being standardized by 3GPP using a narrowband radio technology specially designed for IoT applications and devices. Special features of this standard include: indoor coverage, low cost, long battery life and support for large numbers of devices. This technology can be deployed in GSM and LTE spectrum. This LTE for IoT technology is suitable for sensor devices that will be deployed at smart factories or automation production lines. She said M2M cellular module shipments will increase from 90 million units in 2015 to 250 million units in 2020, at a CAGR of 22%.
Another big trend can be found in the automotive market in Europe. The fast increase in demand for telematics applications provides big opportunities for the industrial ecosystems.
All M2M modules require memory components. Macronix has a full memory product lineup covering different kind of NVMs (non-volatile memory).
SDL's new concept for customer service
SDL, founded in 1992, provides language translation and global content management. Its customers include 79 of the top 100 global brands. Jinghua Sun, SDL business development manager in Shanghai, introduced stalked about mobile device and the new trend of customer services.
He indicated 85% of customers will build relationships without having to talk to people through call centers or regular phone calls by 2020. Customers do not want to wait for responses on the phone, so the product design needs to take into consideration how to enable digital self-service.
There are different content formats, such as print-out user's guides, and electronic files such as pdf. And there are smartphone apps and even VR in the future. To deal with these so many different kinds of content formats, SDL has introduced Content Management System (CMS) to accommodate these challenges. CMS, Sun said, is just like a good librarian who manages the library collections.
The contents also need to be reusable and scalable to fit different media in the market. For the purpose, there is the SDL Knowledge Center. This tool is based on DIAT format (a XML like format) to do the structured content management.
Peraso promoting WiGig 802.11ad
Peraso Technologies, a fables IC design company focused on WiGig, is one of the few companies in the world, along with Intel and Qualcomm, that recently celebrated two milestones: It launched its WiGig W110 chipset into volume production, and it struck an agreement with IgniteNet to supply Peraso WiGig infrastructure components for the core 60 GHz functionality in its MetroLinq line of outdoor wireless products.
Brad Lynch, VP of Product Development, talked about "Using WiGig 802.11ad in Mobile and Consumer Electronics Applications." WiGig was originally developed by the WiGig Alliance, but it was consolidated into the Wi-Fi Alliance in 2013. WiGig products (802.11ad) operate in the 60 GHz spectrum band and deliver data transmitting speed of 8 Gigabit per second, low power consumption and low latency without frequency interference.
Lynch noted the market is just at its beginning stage. Peraso's 60 GHz band USB dongle products and other products from Intel and Qualcomm have just been released. But shipments to the market will expand fast in 2017. The company works to offer products that can support a larger number of customers.
Peraso is also aiming at the market for peripherals, such as VR/AR goggles. Lynch said that the company is looking to create a WiGig ecosystem.
ITRI showcasing 5G technologies
There were two sessions presented by Industrial Technology Research Institute (ITRI): "Next Generation Mobile Communications System" by Ching-Tarng Hsieh, and "Status of 5G technologies development" by Chun-Hsiang Chi.
In 2010, 4G LTE started to deploy and provide services. There were 354 LTE networks in 119 countries and 25 LTE-A networks in 19 countries as of November 2014. Along with LTE have come such applications as cloud services and Big Data analytics. Taiwan's ICT ecosystems covering audio/video digital contents, industrial design houses, retail brands, OEMs/ODMs, semiconductor fabs and fables IC design houses have developed strategies to tap the 4G market.
LTE provides faster data services, and voice services are primarily riding on 2G/3G networks. VoLTE (Voice over LTE) is not yet popular, and technology such as Single Radio Voice Call Continuity (SRVCC) provides an interim solution for handing over VoLTE to 2G/3G networks, which is challenging VoLTE market position. As multiple carriers have to share LTE's limited bandwidth, there are other solutions such as LTE-A, LTE Broadcast, LTE/Wi-Fi Interworking and LTE over unlicensed bands.
IoT connectivity needs to address many issues, such as improvement to indoor coverage, massive numbers of low throughput devices, low delay sensitivity, ultra low device cost, low device power consumption and optimized network architecture. These provide opportunities for NarrowBand IoT (NB-IoT).
5G is about enabling new services and devices, connecting new industries, and empowering new user experience. 5G is a process of both evolution and revolution requiring multiple technologies and global efforts. Taiwan's 5G R&D focus includes mmWave technology, SDN/NFV, and Small Cells.
The current development at ITRI for 5G communication standards, according to Chi, is heading in three directions: mmWave, massive MIMO technologies and small cell stations. The 5G standards will have to wait until 2020 before being finalized.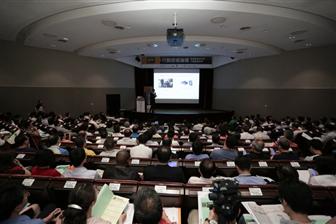 Computex 2016 Mobile Technology Forum arranged by Digitimes