Echoing Government's Productivity 4.0, IoT Automation Boosts Taiwan's Competitiveness
Press release
In response to global initiatives for smart manufacturing, Taiwan is implementing "Productivity 4.0," to stimulate economic growth and renovate industries. Combining technologies of robots, cyber-physical systems, IoT, and big data, Productivity 4.0 has a firm foundation to build on.
Robotic total solutions used to be mainstream, but modular robots allow more flexibility to meet various orders. "Modularizing core robot components avoids the rigidity of total solutions and grants more customizability. It is a critical strategy to Taiwanese robot providers to get a foothold in the industry," said Joe Lin, GM of IoT Automation Solutions Business Group, NEXCOM.
NEXCOM's modularized robotic solutions can break into controllers, control I/O, EtherCAT communication interfaces, software development platforms, HMI, and teach pendants, widening applications in industrial and academic realms with flexibility.
Linking IoT and big data relies on gateways. With embedded API, C2C (Click-to-Connect, Connect-to-Cloud) software engine, and partnership with cloud platforms including IBM Bluemix, Microsoft Azure, GE Predix, and PTC ThingWorx for big data analysis, NEXCOM IoT gateway collects data for predictive maintenance, optimized production process, and enhanced business management.
NEXCOM has connected equipment to networks for petrochemical, consumer electronics, and machine tool companies while introducing robots to production lines. With NEXCOM's assistance, companies are able to increase operational efficiency through predictive modeling and man-machine collaboration.
To increase Taiwan's competitiveness, NEXCOM plays vital roles in Productivity 4.0, helping realize man-machine coordination, extended machine uptime, flexible manufacturing scheduling, shortened lead time, and zero inventory for the ultimate goal of industrial transformation and value-added industries.
For more information about NEXCOM, please visit http://www.nexcom.com/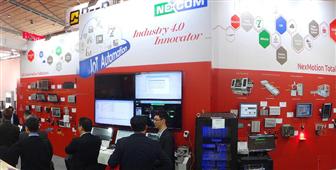 Themed with Industry 4.0 and Production 4.0, NEXCOM's demonstration at Hannover Messe was a presentation of smart factory application.
DIGITIMES' editorial team was not involved in the creation or production of this content. Companies looking to contribute commercial news or press releases are welcome to contact us.