As part of Toshiba, OCZ Storage Solutions is able to leverage Toshiba's NAND and combine it with its proprietary controllers, firmware and software. Toshiba's financial strength has also put OCZ in a better position to compete in the rapidly growing SSD market.
Alex Mei, CMO at OCZ Storage Solutions recently spoke about the company's plans during Computex Taipei 2014 and its outlook for the year ahead.
Q: What are the hot products OCZ will be showcasing at Computex 2014?
A: We are excited to return to Computex as this is always a good show for us in terms of meeting with our partners, customers and media. This year we are showcasing our complete line of client and enterprise solid state solutions including our recently launched RevoDrive 350 PCIe SSD as well as our enterprise class Intrepid SATA series. We are also unveiling our latest addition to the award winning Vector SATA SSD family, the Vector 180 which leverages our proprietary Barefoot 3 controller with the latest generation Toshiba NAND and adds new enterprise features including partial PFAIL protection. We are seeing the lines blur between high end workstation drives and hyperscale/datacenter server SSDs and this product is designed to bridge that gap.
Q: Recently OCZ launched a new PCIe SSD (RevoDrive 350), what is the main significant advantage using PCIe interface? What is the difference compared to other SSD using SATA Express standard?
A: The RevoDrive 350 is designed for customers requiring high performance and is able to achieve three times the performance of SATA-based SSDs, delivering RAID like performance in a single easy to deploy single card solution. The RevoDrive 350 is based on our proven performance architecture and features 19nm Toshiba NAND to complete our portfolio transition to in-house flash, offering a high-performance yet cost-efficient SSD for bandwidth-intensive applications. This exciting new drive provides customers with workstation-grade design capabilities and maximum performance for professional content creation, multimedia, and extreme gaming. RevoDrive 350 is able to reach up up to 1.8GB/s sequential speeds and up to 140,000 4K random write IOPS thanks to the PCIe Gen. 2 x8 interface and multiple LSI SF-2282 processors to offer more bandwidth than the previous generation. Enabling both performance and functionality for applications ranging from scientific computing to extreme gaming systems, this workstation-class storage product also leverages our unique and proprietary Virtualized Controller Architecture (VCA) 2.0 to deliver highly efficient performance aggregation while reducing the burden on host resources, effectively accelerating application performance and taking full advantage of today's multithreaded processors and software. RevoDrive 350 also supports up to 50GB of host writes per day for 3 years to provide leading endurance for media professionals over less robust consumer SSDs.
Q: How did OCZ and the storage market as a whole perform over the past year?
A: The entire market for SSDs continues to grow and it is great to see the technology being utilized in everything from OEM laptops to enterprise cloud computing applications. There are so many demand drivers for SSDs that we are seeing adoption only accelerate as the need to store and manage data continues to grow. Last year was a transition period for OCZ and while we had the controller, firmware and application software technology already in-house it was becoming increasingly difficult to compete without the direct access to NAND. Today as part of the Toshiba Group we now have all the necessary technology pieces and are once again able to focus on delivering leading-edge products for our client and enterprise customers.
Q: After the Toshiba-OCZ combination, what advantages bring to OCZ?
A: Now that we are a Toshiba Group Company, one of the most exciting things about OCZ Storage Solutions is that we have been infused with even greater resources to develop next generation products. Toshiba acquired all of the company's R&D and engineering assets and not only kept them completely intact, but enabled these teams to refocus their efforts on developing our own next generation in-house controller, firmware, and enterprise software. These teams will continue to create products that are specifically designed for our target audience. As part of Toshiba we also have earlier and greater access to next generation NAND which allows OCZ optimize our next generation controllers and firmware to take advantage of the complete range of features, and opens the door to further enhance performance and endurance in future client and enterprise drives. This early access can also potentially accelerate the design cycle making it possible to release innovative products with even better time to market.
Q: What are the fastest growing SSD interfaces in the enterprise segment? Is PCIe gaining traction?
A: SATA continues to be the lion's share of the market but we have seen a continued ramp on PCIe SSDs both in the workstation and enterprise markets. With our current controller technology we are already at the point where we are saturating the SATA III bus so PCIe is a natural transition for customers looking for more bandwidth. We are already well along the design of our next generation controllers that are both native SATA and PCIe and I think that in the future we will see many PCIe SSDs in form factors beyond edge cards as customers seek the ideal combination of performance, density, reliability and ease of deployment.
Q: Where does Taiwan fit into OCZ's operations?
A: Taiwan has always been our APAC operations headquarters and continues to be home for our sales and marketing functions in the region. Our manufacturing operation in Taiwan has been absorbed by a Toshiba manufacturing partner and will continue to produce our drives. This organization has a wealth of expertise in the manufacture of storage products for Toshiba and is infusing additional resources into the operation. As we ramp both our client and enterprise businesses there is a major push to continually improve quality throughout the organization and our local team in Taiwan continues to play a key role in this regard.
Q: Can you tell us more about your enterprise SSD strategy?
A: The enterprise market continues to be a key growth area for us and where we are investing a lot of our resources on the R&D side. We have been refining our solution offering to build products that our customers are specifically asking for, in some cases this includes adding new enterprise features, something that we are able to do because we have our own controllers and firmware. We are also continuing to push are total solutions approach, like our newest ZD-XL SQL Accelerator 1.5 which is a tightly integrated hardware/software plug-and-play acceleration solution optimized for Microsoft SQL Server applications. This solution leverages OCZ's industry-proven PCIe SSD hardware and application-tuned software to deliver low latency flash that resolves potential SQL Server bottleneck issues enabling the flash to be deployed as a local flash volume, a flash cache for HDD volumes, or as a combination of both. The solution includes a combination of fast flash performance, a unique cache mechanism that makes advanced and statistically-optimized decisions on what data to cache, and a dynamic cache warm-up scheduler that enables workloads to be placed on flash cache in advance of demanding and critical jobs. Solutions like this make it easier to deploy and leverage the benefits of SSD technology and we are continuing to make investments in this arena, making it easier for enterprise customers to address their enterprise storage challenges no matter what the application may be.
Q: Can you share your views about the outlook for SSD? What is your business outlook for 2014? Which are the most exciting challenges ahead of OCZ short-term, mid-term as well as long-term?
A: While there is no doubt there will continue to be consolidation in the SSD market I expect that the NAND Fabs will continue to become the key players in this space. I believe we will continue to see a surge in adoption in both the PC and Data Center space with the most growth in the mainstream PC segment as drives only become more affordable. OCZ is back with a renewed focus and our most exciting short term challenges are mostly behind us as we have transitioned our portfolio to Toshiba NAND, and we were able to retain almost our entire team through the transition to let us hit the ground running. Mid-term and long term our challenges are on building back our business with all of our valued customers and partners across all regions, as well as accelerating our product development to leverage cutting edge TLC and 3D NAND technologies. OCZ has always pushed the performance envelope and we are committed to continue to support both the client and enterprise markets with quality SSD products. This is both a very exciting time for the maturing SSD market as well as our own organization, and with Toshiba's support we now have even more resources in which to bring to market innovative solutions that address our customer's requirements head on.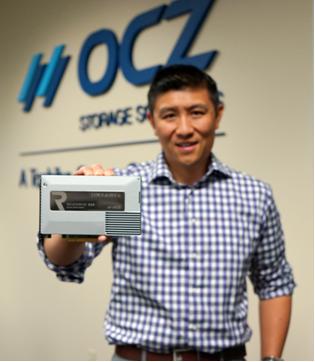 OCZ Storage Solutions launched a new PCIe SSD RevoDrive 350
Photo: Company