Leadtek reveals complete cloud computing solutions at Computex
Press release
At Computex this year, Leadtek takes the opportunity to showcase the fruits of its graphics and wireless communications R&D. Themed "Cloud Integration," LEADTEK will exhibit its latest 3D graphics computing, video surveillance, healthcare, Alzheimer's care solutions at Taipei World Trade Center (TWTC) Hall 1, Booth A1122.
For the first time, Leadtek will reveal its complete integrated video surveillance products which are vastly different from its competitors. Leadtek's video surveillance solutions are the first in the industry to support SIP communication protocol. They include SIP IP phone, IP camera, SIP network video recorder (NVR), alarm devices and central management systems (CMS). This means that Leadtek's video surveillance solutions can immediately integrate with existing SIP communication systems embedded in communities and organizations. The whole system is also connected to users' video phones, whereby they can watch video surveillance footage by connecting their SIP video phones to any NVR. If they have the SIP APP embedded in their smartphones, they will receive warning messages on their phones when their alarm systems have been triggered. This helps to strengthen overall video surveillance performance.
In terms of homecare, users can install the "amor Watcher P2P APP" on their smartphones so that they can monitor the movements of their elderly parents, young children and even pets. Leadtek also provides one of industry's best large-area video surveillance solutions, especially suitable for communities, factories, hospitals, banks, transportation etc.
Leadtek is also proud to showcase its latest healthcare and Alzheimer's Care GPS systems. Its "amor cloud gateway" solution is embedded with Bluetooth 4.0 BLE, Xenon wireless module which allows physiological measurement devices such as ECG patch, blood pressure meter, weighing scale etc., to transmit data directly to "amor cloud gateway". Then, through WiFi or a mobile data network, the data will be uploaded onto the cloud server.
Leadtek also created its own healthcare cloud system where information from doctors and medical professionals are available to users. Users can also manage their healthcare records and exercise information through the cloud system.
Other than personal healthcare management services, Leadtek also invented a mini locating device suitable for those suffering from Alzheimer's. This helps to enhance their personal safety and reduce the burden of the care person.
Known as the industry leader in the area of virtual desktop infrastructure (VDI) and the graphics computing business, Leadtek will reveal new-generation cloud computing products at Computex. This includes its TERA2321 PCoIP PoE (Power-over-Ethernet) zero client, which leverages IP networks to provide a realistic PC experience. This means there is no need for the CPU, physical data storage or operating software. Complemented by Leadtek's own professional modeling workstation, it truly realizes the idea of remote working and centralized database management. It is a safe and easy-to-manage "zero client", giving uncompromised modeling and visualization performance over a secured network.
Leadtek welcomes you to visit its cloud computing showcase at TWTC Hall 1 Booth A1122. Together let's experience the best of wireless communications, Internet, video and 3D visuals. For more product information, please visit http://www.leadtek.com/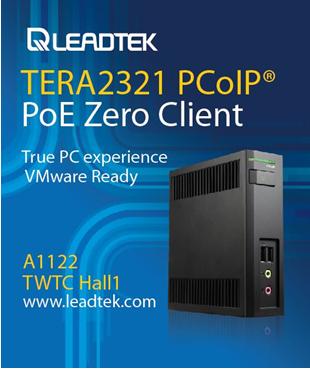 Leadtek is exhibiting its latest 3D graphics computing, video surveillance, healthcare, Alzheimer's care solutions at Taipei World Trade Center (TWTC) Hall 1, Booth A1122.
Photo: Company