Apple shipped a total of 33.8 million iPhones, including the 5s, 5c and older models, in the third quarter of 2013, increasing 25.7% from a year earlier, according to data compiled by Digitimes Research.
Sales of the iPhone 5c have been lagging far behind the iPhone 5s because the 5c has a low price/performance ratio and a vague pricing as compared to the iPhone 5s, forcing Apple to push sales of older models with reduced prices in emerging markets, Digitimes Research said.
As a result, the ASP of iPhones dropped to a historical low of US$577.2 in the third quarter, resulting in Apple's revenues growing at a pace slower than the growth in shipments and also affecting the vendor's profitability.
After completing the first full quarter of sales in fourth-quarter 2013, sales of the new iPhone models are expected to hit a new quarterly high, but Apple is unlikely to see its market share moving upward due to low shipment growth and lack of competitiveness in emerging markets, Digitimes Research commented.
Apple remains active pushing sales of the new iPhones to China, and its pending cooperation with China Mobile, which accounts for 70% of China's mobile phone user market, will be a shot in the arm for its efforts to ramp up its share in China.
Sales of iPhones in Japan have been growing steadily, although the impact of sales of new iPhones to the market by an additional distributor, NTT DoCoMo, has not been fully revealed. With NTT DoCoMo holding a leading market share in terms of the number of mobile users, shipments of iPhones in Japan are expected to grow significantly in the fourth quarter, Digitimes Research indicated.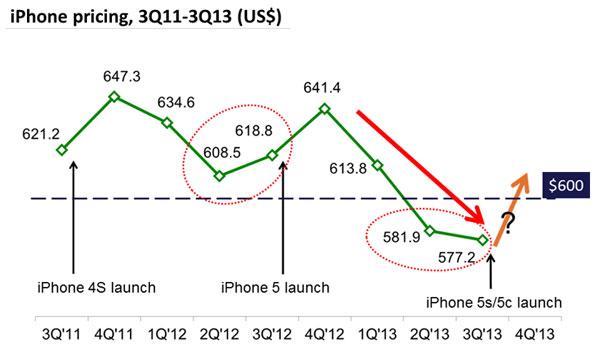 Source: Company, compiled by Digitimes, November 2013