Digitimes Research: Taiwan server sales to top NT$300 billion in 2013
Joanne Chien, DIGITIMES Research, Taipei
Revenues generated through the sale of servers and related products by Taiwan-based makers are expected to top NT$300 billion (US$10.02 billion) in 2013, according to Digitimes Research's latest figures.
Inventec and Foxconn Electronics (Hon Hai Precision Industry) are the top-two server makers in Taiwan, but Quanta Computer, the current number three, which focuses mainly on supplying server products directly to larger cloud computing service (Internet) players, will have a chance to challenge the number two position with an estimated share of 22% in revenues for 2013, Digitimes Research figures showed.
Wistron is currently positioned fourth, and the top-four makers together will account for 88% of revenues.
Since Taiwan makers are supplying 80% of global server hardware, Digitimes Research believes that for Taiwan makers to continue achieving growth, they will need to focus on improving the competitiveness of their solutions including enterprise storage, telecom products, professional software and services.
This article is an excerpt from a Chinese Digitimes Research report. Click here if you are interested in receiving more information about the content and price of a translated version of the full report.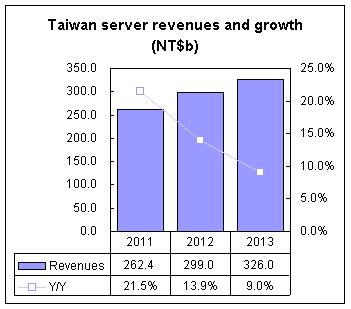 Source: Digitimes Research, August 2013