Taipei, Taiwan - Growing concerns about energy and emissions are driving a revolution in the lighting sector, according to a new report from Digitimes Research. Advances in technology and falling prices will see the global penetration rate of LED lighting rise from a mere 1.5% as recently as 2009 to 11.6% in 2012, reaching 25.8% by 2014.
This change is nowhere more apparent than in Japan, where power shortages following the earthquake and tsunami of March 2011 have spurred both the public and private sector to seek ways of reducing energy consumption. To this end, Japan has set a target of achieving a 50% LED lighting penetration rate by 2015; this may sound ambitious, but Digitimes' research shows that the country is likely to easily meet the 2015 goal. Other nations including South Korea and China have also set significant LED lighting targets for 2015.
Japan's LED lighting sector is also booming, with both household names like Panasonic and Toshiba and smaller players such as Koizumi seeing sharp growth in LED lighting sales. South Korean giants Samsung and LG are stepping up efforts to seize market share in Europe and North America and restructuring their LED businesses, while Siemens' subsidiary Osram seems likely to become the subject of Germany's largest IPO since Deutsche Post. US giant Cree and Philips, by contrast, are making a major push into China, both in terms of manufacturing and sales.
For detailed analysis of the major trends and players in the global LED lighting market, see Digitimes Research's new Special Report, "Trends in the high-brightness LED lighting market."
About DIGITIMES Research
DIGITIMES Research is the research arm of DIGITIMES Inc., Taiwan's leading high-tech media outlet. Operating as an independent business unit, DIGITIMES Research focuses on monitoring key high-tech industries, while also guiding clients toward suitable new business as well. Market intelligence and analysis is provided to more than 1,000 corporate customers worldwide. Research and consulting services cover a full range of industries, including information and communications technology (ICT), flat panel display (FPD), renewable energy and semiconductor design and manufacturing.
Contacts:
Michael McManus (Michael.mcmanus@digitimes.com)
Shannen Yang (Shannen.yang@digitmes.com)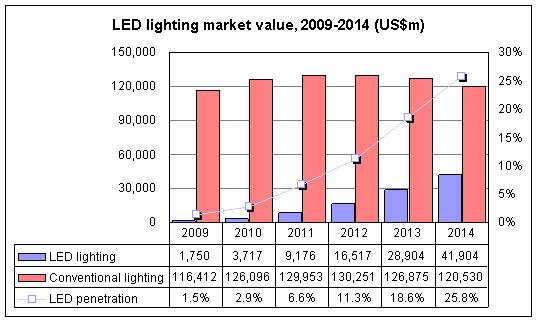 Source: Digitimes Reseach, February 2012