AMD raises the bar on sub-US$100 graphics performance and image quality
Press release, April 27; Joseph Tsai, DIGITIMES
AMD has announced the addition of the AMD Radeon HD 6670, HD 6570 and HD 6450 graphics cards to the channel, completing the roll-out of the AMD Radeon HD 6000 family of graphics cards. Priced at less than US$100 and consuming less than 75W of power, these cards offer budget-conscious gamers and digital lifestyle enthusiasts powerful yet very affordable solutions that are ideal for HD gameplay, video playback and productivity applications, AMD said.
The three new graphics cards allow users to experience immersive gaming and greater productivity with AMD's Eyefinity technology, turning three or more monitors into a single large surface, while AMD's HD3D technology allows users to watch the latest Blu-ray 3D movies as well as enhance their gameplay.
The AMD Radeon HD 6450, HD 6570 and HD 6670 graphics cards will be available for purchase through system builders and at major online retailers, including Amazon, CyberPower, iBuyPower, Newegg, NCIX, and TigerDirect.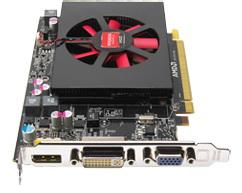 AMD Radeon HD 6670 graphics card
Photo: Company