All professional users, ranging from architects, 3D engineers, and animation designers to visual effects artists, need a stable, reliable and high performance computing solution. Aware of this importance, AMD has launched the optimized plug-in driver for professional software users. By cooperating with Autodesk, AMD has optimized its ATI FirePro workstation level graphics card for AutoDesk software applications including AutoCAD and 3DS Max. Both applications are the most popular choice for 3D modeling, animation, and Internet photo editing in the manufacturing, construction and engineering design industries.
The latest optimization plug-in supports AutoCAD 2010, AutoCAD 2011, 3DS MAX 2010, and 3DS MAX2011. The setup process is very easy:
First install the driver of ATI workstation level graphics card, AutoDesk applications and then the optimization plug-in installation package. It is just several MBs in size, and the installation process takes only a few seconds. As for the configuration setup, only three steps are required:
3DS Max Setup:
1) Start 3DS Max. Click "Customize" and then "Preferences" from the Customize dropdown menu. Preferences Settings dialog window will appear.
2) Click the Viewport tag in the Preferences Settings dialog window and then the Choose Driver button, as illustrated below.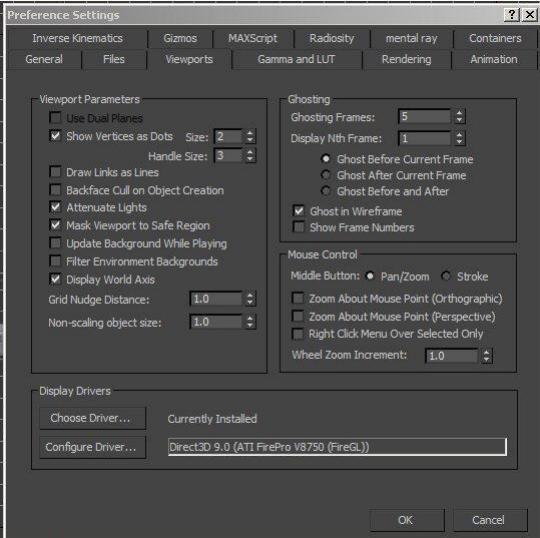 Photo: Company
3) Click "Choose Driver" --> "Custom" button and then select the correct path from the driver selection list to initiate the 3DS Max optimization plug-in.
For different 3DS Max versions, the corresponding plug-in files are:
• 3ds Max 2010: atid2k10.drv
• 3ds Max 2010 64: atid2K10_64.drv
• 3ds Max 2011: atid2K11.drv
• 3ds Max 2010 64: atid2k11_64.drv
The setup process is complete after 3DS MAX is restarted, and you can start enjoying all coloring capacities based on DirectX technologies and OpenGL level speeds. Visual effect artists and graphic designers can benefit from massive performance gains delivered by the ATI FirePro professional graphic card and more effectively create games, movies or TV program contents.
AutoCAD Setup:
1) Start AutoCAD.
2) Type "3dconfig" in the command line and choose "Manual Tune" when the "Adaptive Degradation and Performance Tuning" dialog window appears.
3) A "Manual Performance Tuning" dialog window will appear. Please choose an appropriate driver based on your AutoCAD version from the "Driver Name" list:
• AutoCAD 2010: atioglcad10.hdi
• AutoCAD 2010 64: atioglcad10_64.hdi
• AutoCAD 2011: atioglcad11.hdi
• AutoCAD 2010 64: atioglcad11_64.hdi
As illustrated below, the chosen optimization plug-in is for AutoCAD 2011.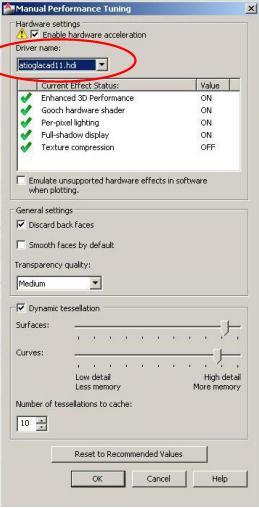 Photo: Company
Click "OK" to close the dialog window, and the corresponding AutoCAD optimization plug-in will take effect. In addition to efficiency gains, the plug-ins, revolutionarily developed by ATI, also uses Tesselation and OpenGL technologies that allow users to manually tune setup details and levels and realize cutting edge concepts such as Per-pixel lighting and Full-shadow display.
According to the optimization plug-in performance comparison charts below, it is very obvious that performance is greatly improved with the plug-in. This optimization plug-in supports all ATI FirePro series professional graphic cards from entry level (V3700, V3750 and V3800), mid level (V4800 and V5800) to advanced level (V7800 and V9800). The complete compatibility will greatly enhance product values and user utilities.
The optimization plug-in can be downloaded at: http://workstation.sapphiretech.com/presentation/downloads/?psn=0006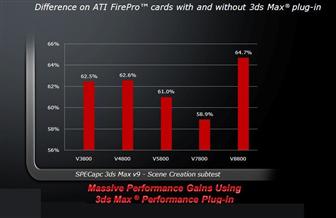 Photo: Company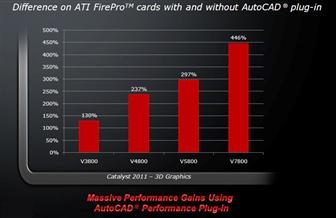 Photo: Company
In the past, professional users were not able to utilize all their talents, as their design efficiency and precision have been severely restricted by hardware limitations imposed by gaming graphic cards, and professional workstation level graphic cards were too expensive. Now, with ATI FirePro professional graphic cards, professional specialists can truly tap into their design potentials. Moreover, the latest AutoDesk plug-in can also boost the performance level of AutoCAD and 3DS Max to 400% and more importantly, the plug-in is 100% free of charge.
Sapphire Workstation website: http://workstation.sapphiretech.com/presentation/index.aspx
DIGITIMES' editorial team was not involved in the creation or production of this content. Companies looking to contribute commercial news or press releases are welcome to contact us.