175 news items tagged Sapphire
Sintronic Technology will focus on promoting UVC LED and poly-crystal sapphire products as growth drivers for 2020 after a tough year in 2019, according to company chair Ma Yonglin...

Diode rectifier seller and CCFL (cold cathode fluorescent lamp) lighting maker Sintronic Technology will set up a polycrystalline sapphire production line in southern Taiwan in first-quarter...

Russia-based sapphire maker Monocrystal has expanded monthly production capacity from four million mm in 2015 to 4.5 million mm currently, and aim to reach five million mm by the...

The average monthly price of sapphire has fallen by more than 30% on year in September 2015, according to LEDinside. This decline is the result of suppliers expanding their production...

Russia-based Monocrystal is expanding its monthly sapphire production capacity from 4.0 million 2-inch wafers in equivalent currently to 5.0 million units to target a global market...

Patterned sapphire substrate (PSS) maker Rigidtech Microelectronics is seeing strong orders in March and expects continued growth into April, with 4-inch units expected to be at the...

China-based sapphire makers Biel Crystal Manufactory and Lens Technology, in view of growing adoption of sapphire optical applications in wearable devices and smartphones, have expanded...

As prices for 6-inch sapphire wafers are on the decline and China-based LED epitaxial wafer and chip makers are increasing their use of 4-inch sapphire wafers, Taiwan-based LED makers...

A total of 30.8 million millimeters of two-inch equivalent sapphire ingots will be used for Apple Watch covers in 2015. This accounts for 18% of sapphire ingots produced worldwide...

GT Advanced Technologies has announced that following the bankruptcy court's recent approval of its settlement agreement with Apple, GT is now pursuing ASF furnace opportunities for...

China-based smartphone vendor Xiaomi Technology is likely to adopt sapphire for protective covers of Xiaomi 5, its 5.7-inch flagship model that will be showcased at the 2015 Consumer...

AMD hosted i-Cafe Conference in China on December 10, forming partnerships with hardware companies such as Foxconn Electronics (Hon Hai Precision Industry), Asustek Computer, Micro-Star...

GT Advanced Technologies' (GTAT) move to seek bankruptcy protection on October 6 came as a surprise to the IT industry especially because the maker was a major supplier of Apple for...

US-based sapphire ingot producer GT Advanced Technologies (GTAT) has applied for bankruptcy protection possibly because its HEM technology-based ingot growing process has seen much...

This Digitimes Research Special Report focuses on the 2014-2015 sapphire application market and industry outlook. Sapphire has been a key component in the LED industry in recent years,...

Whether major smartphone vendors follow Apple to adopt sapphire-screen covers will hinge on cost, and US$30 for a 5.5-inch sapphire-cover will be a competitive price in 2015, according...

Following the use of sapphire to make covers for the home button and camera of the iPhone 5, China- and South Korea-based smartphone vendors are considering the adoption of sapphire,...

US-based GT Advanced Technologies (GTAT), the exclusive sapphire supplier for Apple, is estimated to supply enough sapphire to make covers for up to 1.35-2.25 million 5.5-inch iPhones...

Global demand for sapphire for use in LED and optical applications (such as smartphone covers) will reach 80.084 million mm of 2-inch equivalent ingots in 2014 and increase 36.1%...

China's largest laser equipment maker Han's Laser and sapphire processing player Goodfeel Technology will attend Touch Taiwan 2014, August 27-29 at the Taipei World Trade Center Nangang...

Strong LED market demand in 2014 has led to expanded patterned sapphire substrate (PSS) production capacity, according to LEDinside. The 4-inch PSS market is currently facing supply...

Apple's reported iWatch, which is expected to be released in late 2014, will use sapphire watch covers, according to research firm LEDinside. If iWatch sales reach market estimations...

After several years of growth, the cover glass market is expected to slow. However, improvements in applications and materials used in cover glass manufacturing could help to stimulate...

Out of sapphire substrate non-LED applications, mobile devices have shown the strongest demand. Sapphire substrate non-LED applications are projected to reach a 32% share in 2014,...

Global leaders in the sapphire industry, in attempts to return to profits from losses incurred in 2012-2013, will focus on increasing utilization rates rather than expand capacities...
Related photos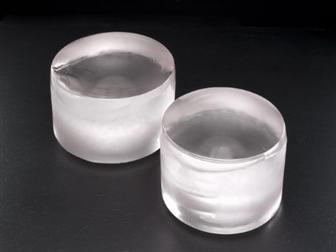 GT ASF grown sapphire boules
Photo: Company, Tuesday 13 December 2011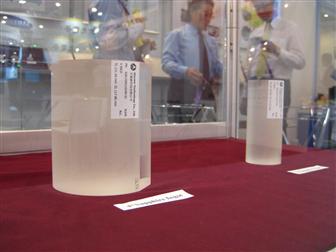 SEMICON Taiwan 2011: Atecom showcases sapphire ingots
Photo: Jackie Chang, DIGITIMES, Friday 16 September 2011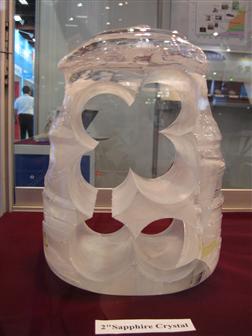 Atecom Technology showcases sapphire crystals in SEMICON Taiwan 2011
Photo: Jackie Chang, DIGITIMES, Wednesday 14 September 2011
Related news around the web