NTT docomo recaptures Japanese mobile market with support of Taiwanese IT vendors and a flexible Wi-Fi strategy, says NTTBP president Tadao Kobayashi
Press release, December 24, Lu Tsung-Hsi
Mobile communications technology is a constantly evolving field. Rather than always trying to keep up with the latest developments, sometimes taking a different strategic tack will work just as well. While NTT docomo came out second-best in the battle for the iPad 3G Japanese market this year, the Personal Wireless Router (PWR) from another NTT company NTTBP (Broadband Platform) created a new opening. A Taiwanese IT vendor played a role in creating the new blue sea market as well. In this report, we visit NTTBP President Tadao Kobayashi to find out about NTTBP's strategy for next-generation wireless networks.
The constantly expanding range of mobile Internet services and the length of the industry chain signify that it is becoming increasingly difficult for traditional telcos to control every single development. They must adopt more flexible strategies and ally with more strategic partners to respond to the new challenges.
Japan has now surpassed North America and Western Europe to become the largest wireless broadband market in the world and the demand for mobile Internet is continuing to grow rapidly. As the largest telco in Japan, NTT docomo has come under increasing pressure from other competitors such as SoftBank over the past year. (SoftBank secured exclusive Japanese rights to Apple's iPhone and iPad. Both products have proven to be wildly popular in Japan.)
Realizing that the popularity of smart phones and the iPad will lead to a surge in demand for network bandwidth, NTT docomo responded by releasing the Personal Wireless Router (PWR). The PWR complemented the public Wi-Fi network deployed by fellow NTT subsidiary NTTBP throughout Japan and quickly gained solid consumer support. While NTTBP usually works quietly behind the scenes, its role in the success of the PWR has increased its stock with the Japanese communications industry.
During the interview, NTTBP President Tadao Kobayashi explained that NTTBP's role is that of a network infrastructure provider. NTTBP is the overall integrator and administrator for the public Wi-Fi networks of NTT business units such as NTT East, NTT West, NTT docomo and NTT Communications. It has also set up more than 7,000 base stations in airports, train stations, schools, hotels, cafes and even train carriages throughout Japan. Expanding its services to include smart phones has helped boost NTTBP's data traffic business by several fold.
Kobayashi said that Wi-Fi is gradually becoming the standard wireless interface for portable electronic products. Wireless Internet is now increasingly being integrated into notebooks, smart phones, handheld gaming devices and tablet PCs, so the bandwidth demand is continuing to expand as well. "A huge amount of infrastructural investment is required to deliver Wi-Fi grade speeds over LTE (4G) networks. Wi-Fi is low cost and does not involve expensive spectrum licensing fees either, making it an investment that offers very high returns."
Kobayashi thinks that NTTBP can use the newly created demand as an opportunity to set up a new business model. "A new market however lacks a precedent, so the process of going from thinking up a concept to securing the support of your partners is therefore very difficult." Nevertheless, this is a process that all original products or inventions must go through and Kobayashi is more than willing to share this experience with Taiwanese vendors looking to move up to the next level.
The MOEA Industrial Technology Research Institute has never spared any effort when it comes to looking for international business opportunities. Industrial Development Bureau section chief Long-fon Hsieh said: "By promoting partnership opportunities with major international companies and learning from their development processes for innovative applications, we can help Taiwanese companies develop even more original and localized value-adding application services. This will help enhance the added value from Taiwanese ICT products as well."
Kobayashi first met with team leader Chih-yuan Liu and deputy team leader Chi-lung Wang from the ITRI ICT Laboratories five years ago. Thanks to the efforts of the ITRI, NTTBP began working more closely with Taiwanese companies. Apart from sharing NTTBP's own Wi-Fi operations savvy with Taiwan, the ITRI and NTTBP began a technical exchange program last year as well. The latest joint project is power-saving software for smart phones and smart home sensing applications.
Commercial confidence means actual PWR sales figures are not available but Kobayashi revealed that triple-digit growth is expected next year, so Japan will assuredly significantly increase its purchases of wireless gateways from Taiwan. When the associated applications and services are expanded to China, the Americas, and Europe, Taiwanese businesses will benefit as well.
"There is still a great deal of potential in Wi-Fi!" says Kobayashi. NTTBP is now studying the next generation of Wi-Fi communications standards. The interfacing and compatibility issues between PWR products and LTE (4G) networks are being worked on as well. Kobayashi noted that wireless networking is unlicensed, unlike 3G and even 4G networks. It is also free from the restrictions of licensed bands as well, so 3G and Wi-Fi will complement rather than conflict with each other.
Digital convergence is now an established trend and users are increasingly coming to expect seamless IT services. The MOEA IDB is now actively promoting partnerships between embedded system vendors and value-added application or content service providers. The partnership will focus on developing the value-added application services derived from digital convergence. The "Create International Supply Chain for Embedded Software Industry" project, commissioned by the MOEA IDB, and being executed by the ITRI, for example, is based on identifying partnership opportunities with major international vendors such as NTTBP. These projects will enable local companies to set up value-added application services suitable for Taiwan and introduce their successful business models to the business market. This will in turn lead local embedded systems, value-added application or content service vendors into emerging blue sea markets.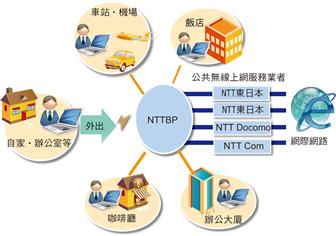 NTT docomo recaptures Japanese mobile market with support of Taiwanese IT vendors and a flexible Wi-Fi strategy
Photo: Company