Acer Canada launches new S1 line of ultra-thin, space-saving displays with advanced eco-friendly technology and packaging
Press release; Yvonne Yu, DIGITIMES
Mississauga, Ontario - (Business Wire) - Acer Canada has launched a new line of ultra-thin LED monitors that feature an eco-friendly, space-conscious design. The new S1 series displays combine the latest LED technology with a slim 13mm to 15mm profile, making them ideal for users with limited space for work or entertainment.
The S1 series LED monitors come in two sizes, delivering excellent video performance and innovative display technologies to deliver crisp, clear images.
"In addition to the eye-catching design and crisp visual quality, the S1 series monitors were designed to be one of the slimmest monitors available today for consumers with a limited amount of desk space," said Chris Chiang, product marketing manager, Acer Canada. "Another key consideration was designing a monitor that delivers low energy consumption and environmental impact."
Designed with clean lines, a polished black display frame and rounded porcelain-like stand, the eye-catching S1 series is the perfect blend of sophistication and style. These two modern looking displays are available in 23-inch and 21.5-inch models, featuring an ultra-slim profile, ranging from only 12.7mm for the 21.5-inch model to 14.8mm for the 23-inch model.
The S1 series of monitors leverages some key eco-friendly, energy-saving technologies. The S1 series models feature white LED backlighting, which does not contain hazardous substances such as mercury or halogen gases, making it safer for the environment. Additionally, white LED technology consumes less power, providing up to 68% power savings to users.
The new displays are MPR II, RoHS and Energy Star 5.0 compliant, the latest and most widely used energy-conservation qualification, helping consumers streamline costs and preserve power while providing higher efficiency. To further decrease the environmental impact of the displays, the Energy Star 5.0 specifications incorporates stringent energy consumption and power management requirements while in the "On" mode.
For consumers with community recycling programs, the environmentally-friendly monitors all come in highly recyclable packaging materials, with all major plastic components properly labeled with the composition code and recycling symbols to facilitate future recycling based on ISO 1043/11469 standards.
The sophisticated new Acer S1 series of LED monitors provides consumers with a premium viewing experience and advanced features. The monitors all feature 12,000,000:1 contrast ratio via Acer Adaptive Contrast Management (ACM), for crisp graphics and stunning picture quality. The ACM features advanced technology that enables users to adjust images frame by frame for a dramatic improvement of gradation and detail, especially in very dim or very bright scenes.
Providing excellent high-definition picture quality, the monitors boast a 16:9 aspect ratio, allowing users to view high-definition digital content without the image distortion that arises from incompatible aspect ratios. The displays also feature 1,920x1,080 resolutions, further enhancing the video quality.
Perfect for viewing high-definition (HD) videos, movies and other digital content, the displays feature rapid 5ms response times, 250 cd/m2 brightness and 16.7M colors.
Each of the new displays ensure easy connectivity to home entertainment devices and office peripherals via a VGA port or DVI port with HDCP protection (depending on the model). Additionally, both models come with an all-digital HDMI interface, delivering exceptional high-definition viewing and top-quality uncompressed video.
Acer's unique software solutions boost usability. The eColor Management on-screen interface allows users to tailor the performance of the display, such as brightness, saturation and contrast. The Empowering Key enables users to switch between viewing scenarios and create their own to compensate for application and environmental constraints. The eDisplay Management function is a powerful color enhancement and display rotation tool.
The Acer S1 series of displays will be available this month for Canadian customers at leading retailers for an MSRP $209.00 (CAD) (US$197.63) for the 21.5-inch model (S211HL bid) and $239.00 (CAD) for the 23-inch model (S231HL bid).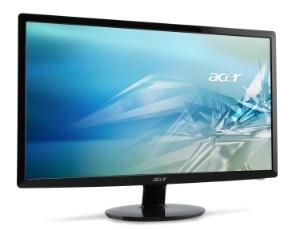 Acer S1 series LED-backlit LCD monitor
Photo: Company