Acer has announced LumiRead, a e-book reader that supports Acer's clear.fi solution, a content supply platform which allows consumers to access and share e-books and audio-books.
The device supports both Wi-Fi and 3G through the built-in modules for downloading the contents and Acer has already signed agreements with Barnes & Nobles to offer more than one million titles in its e-books store, as well as Germany-based Internet book retailer Libri.de to offer more than four million titles and China-based Founder, for providing localized content in English, Chinese and German. The content will also be translated for serving French and Italian readers.
The Acer LumiRead features a 6-inch display and is only few millimeters thick. With non-glare, no backlit E-ink display, it delivers a paper-like reading experience even under bright sunlight, Acer claims. Equipped with 2GB flash memory, it can hold more than a thousand of books and users can increase the device's capacity easily through inserting an additional memory card. The device also features a scanner allows for scanning book's ISBN codes to create customized wish-list and search on supported online library and book stores.
Acer LumiRead also features designs such as a QWERTY keyboard for easy web browsing for information of books. The auto-layout automatically adjusts the content to offer the best reading experience according to the format. The device supports various file formats to multiple users choices.
Acer also announced the new Aspire Z5710 all-in-one PC, the Aspire 5745P notebook and the Stream smartphone.
The Acer Aspire Z5710 all-in-one PC features a 23-inch display that supports multi-touch function and Full HD (1920×1080) resolution. The device also supports Dolby Home Theater v3 with 5.1-channels HD surround sound for multimedia output. The Aspire Z5710 also features a slot-in optical drive, a card reader, HDMI port and optional TV-tuner.
The Aspire 5745P notebook features a 15.6-inch LED-backlit touchscreen, Intel Core processor, premium graphics solutions and DDR3 memory is capable of running graphics-intensive applications.
The Acer Stream is a high-end multimedia smartphone, optimized for watching high-definition movies, as it can support up to 720p video resolution, supports listening to music with Dolby mobile, and allows web browsing. With the built-in HDMI port, Acer Stream is capable of connecting to TV, while the device's equipped touch screen is supported with AMOLED technology for offering strong display quality.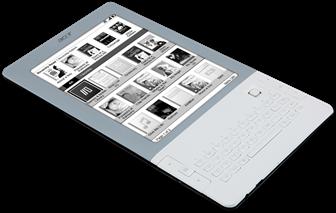 Acer LumiRead e-book reader
Photo: Company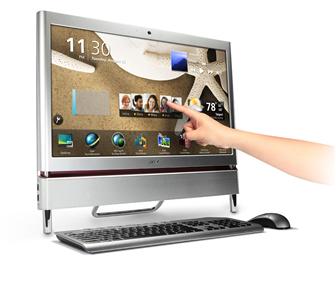 Acer Aspire Z5710 all-in-one PC
Photo: Company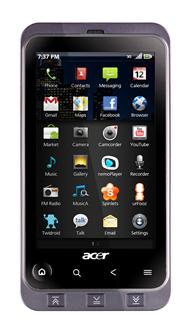 Acer Stream smartphone
Photo: Company