LG Display (LGD) has announced the commercial launch of a 3D LCD panel boasting full HD resolution. The new product is a 23-inch 3D monitor LCD panel for use with shutter glasses.
The panel adopts the company's proprietary technologies such as "high performance 3D exclusive controller" capable of processing more than twice as much image data as other HD 3D LCDs and "copper bus line" to improve on the resolution and picture quality, the company said. In addition, the panel is able to reproduce both 2D and 3D images, meaning that users can switch back and forth from 2D and 3D modes.
Although full HD 3D images have been developed for contents such as video games, movies and animations, 3D display products with full HD resolution were unavailable in the market, it said. The commercial launch of LG Display's full HD 3D LCD panel is expected to help to boost development of high resolution 3D contents while allowing users to view true-to-life 3D images.
The 3D display market is expected to grow at rapid pace as the industry players are shifting their focus from two-dimensional to three-dimensional technologies. The Korea Communications Commission recently announced plans to start a trial service for the world's first full HD 3D terrestrial broadcasting from the second half of 2010. A launch of trial services for 3D satellite broadcasts had been also announced earlier in Japan and the UK.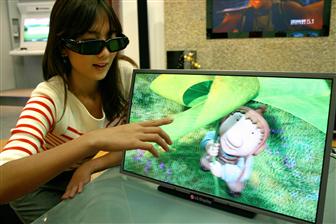 LG Display full HD 3D LCD panel
Photo: Company