VIA Technologies has announced a new mobile computing device category, NetNote, that combines the company's Surfboard motherboard along with turnkey system design.
NetNote, a new market segment VIA hopes to create positioned between netbooks and traditional notebooks, combines the portability and affordability of a netbook with functionality and entertainment capabilities of a notebook in a light, high performance clamshell mobile device with long battery life, screen sizes between 10.2- to 12.1-inch, and support for playback of high bit-rate 1080p HD video, said VIA.
Combining the VIA VX855 media system processor with a choice of VIA C7-M ULV or VIA Nano processors, two new VIA Surfboard NetNote Edition platforms are available, enabling system designers the opportunity to create high-quality, energy-efficient and feature-rich solutions for manufacturing NetNote devices, said VIA.
Along with support for hardware acceleration of a variety of video standards including H.264, MPEG-2/4, VC-1 and WMV9, NetNotes come with features including an optional HDMI port and a choice of integrated 3G connectivity modules.
VIA Surfboard NetNote turnkey platform specifications

Platform name

VIA VT6552

VIA VT6549

Processor

VIA C7-M ULV 800MHz FSB or VIA Nano 800MHz FSB

Chipset

VIA VX855 Media System processor

Display resolution

Internal resolutions: up to 1366 x 768 pixels

External resolutions: up to 1920 x 1440 pixels

Graphics

VIA Chrome9 HCM IGP with memory share architecture, up to 512MB

Memory support

One SO-DIMM socket, support DDR2 667/800 up to 2GB

Audio codec

VIA Vinyl VT1702S

Ethernet

VIA Rhine VT6107 10/100Mb

Embedded controller

ITE8502E

Card reader

Genesys GL827S

ITE IT1337E

PATA to SATA

Sunplus SPIF223B

Marvell 88SA8052-TBC2

Clock generator

IDT ICS9UM701AKLF-T

USB extension

USB hub (option)

Battery

24.4Wh(3S1P) / 10.8V (3.6V x 2.2AH x 3 cells) Default

48.8Wh (3S2P) /10.8V (3.6V x 2.2AH x 6 cells)

DC jack

AC 110~240V, DC 20V@40W

Audio jack

Mic-In, HP-Out

VGA output

D-sub VGA Output

USB port

2 ports

LAN jack

RJ45

LVDS

Yes

Yes

Mini-PCIE

2 sockets with USB interface only

SIM card

Yes

Yes
Sources: VIA, compiled by Digitimes, September 2009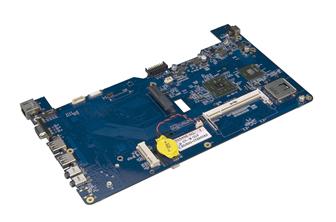 VIA Surfboard NetNote Turnkey platform
Photo: Company