Acer has announced several Aspire series products including nettop, all-in-one PC, netbook and notebook devices.
Acer has introduced the Acer AspireRevo (Hornet) which uses the Nvidia Ion platform and Intel Atom 230 processor and comes with a choice of SATA hard drive or solid state drive (SSD) and up to 4GB of DDR2 memory. Acer AspireRevo is also available in a bundle that comes with a motion sensing game controller.
The all-in-one Acer Aspire Z5600 PC has a 24-inch display and is engineered for Windows 7 with full touch screen capability, said Acer. The Aspire Z5600 is a mainstream PC that features Intel processors and hard drive capacities up to 2TB.
Acer has extended its Aspire One netbook family with a new 11.6-inch format. Available in four colors – white, dark blue, red and black – the 11.6-inch Aspire One is equipped with an Intel Atom processor and Intel US15W Express chipset, 160GB internal hard drive, and multi-in-one card reader. The netbook's thickness has been reduced to 1-inch, Acer noted.
Acer's Aspire 5935 and 8935 notebooks adopt LED backlit CineCrystal display panels with a 16:9 aspect ratio in 15.6-inch and 18.4-inch formats. The notebooks feature a third-generation Dolby Home Theater system with True5.1 Channel surround sound technology and Acer Tuba CineBass amplifier to allow consumers to experience low frequency bass effects. The new notebooks offer up to 4GB of DDR3 memory, while the Aspire 8935 can accommodate two hard drives for a maximum capacity up to 1TB.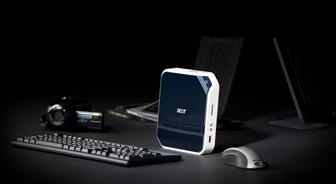 Acer AspireRevo nettop featuring Nvidia's Ion platform
Photo: Company