35 news items tagged Aspire One
As demand for netbook from the educational market is gradually rising, netbook vendors such as Acer, Hewlett-Packard (HP) and Dell have all launched models specifically targeting...

Taiwan-based netbook vendors, including BenQ, Asustek Computer, Micro-Star International (MSI) and Acer, have all recently slashed prices for their netbook lineups based on Intel...

Quanta Computer and Compal Electronics have recently stepped up their competition for Acer's Aspire One netbook orders for 2010, as Acer has not yet decided its outsourcing partner,...

Acer will launch a Timeline series of ultra-thin notebooks with a screen size of 11.6 inches in July, with Quanta Computer to undertake OEM production, according to industry sources...

Acer has recently reduced order volumes of its 11.6-inch Aspire One AO751h netbook to Quanta Computer due to unsatisfactory sales, according to industry sources.

Acer America has extended its netbook line with two new models optimized for mobile customers – the 11.6-inch Acer Aspire One AO751h and the 10.1-inch Acer Aspire One AOD250.

Taiwan-based netbook vendors saw shipment volumes fall short of their respective goals in the first quarter, according to sources at channel vendors.

Acer has announced several Aspire series products including nettop, all-in-one PC, netbook and notebook devices.

Asustek Computer's Eee PCs are the best selling netbooks in Japan with a market share of 27.18% in terms of sales, according to a Chinese-language Commercial Times report...

Quanta Computer has laid off employees reportedly due lower-than-expected notebook order volumes from Acer and Hewlett-Packard (HP), according to a Chinese-language Commercial...

Netbook vendors are dropping prices of their 8.9-inch netbooks models to clear inventory, and solid state drive-based (SSD-based) models are seeing the sharpest drops, according to...

The global netbook market reached a scale of 14 million units in 2008, and with shipments continuing to rise, the scale will reach 25-30 million units in 2009, and 40-45 million units...

IC design house Ene Technology has reported January sales of NT$56.35 million (US$1.68 million), up 10% on month, thanks to keyboard controller orders for Acer's Aspire one, according...

Acer has begun small volume shipments of its 10.1-inch Aspire one netbooks in Hong Kong and Taiwan. Large volume shipments for major global markets are slated in mid-February, according...

Acer is reportedly considering phasing out its consumer 8.9-inch Aspire one in the second quarter of 2009 to make way for the upcoming 10.1-inch model, according to notebook industry...

Taiwan IC design companies have seen stronger orders in January from netbook OEMs thanks to the upcoming launches of new generation Acer Aspire One netbooks as well as Asustek Computer's...

With Acer's new Aspire One scheduled to start shipping at the end of February, Compal Electronics is expected to receive orders for more than four million units of the 10.1-inch netbooks,...

Acer's upcoming 10-inch Aspire one netbook will be priced around US$399 and is manufactured by Compal Electronics, according to a Chinese-language Apply Daily report.

The compact and lightweight Acer Aspire One integrates basic computing features and connectivity, winning itself a WinHEC 2008 Award. The Aspire One is an Intel Atom-based netbook...

Asustek Computer's Eee PC 901 was reportedly the best selling netbook priced below 100,000 Yen (US$1,134) in Japan in November this year, and the result has helped the company became...

With Acer grabbing market share from Hewlett-Packard (HP) in the notebook market in the third quarter this year, HP has decided it will offer its 13-inch notebook models below US$800...

Acer plans to launch 10-inch Aspire One netbooks in February or March next year, according to Scott Lin, Acer Taiwan president.

With Quanta Computer lowering its quotes at the end of October in order to gain next-generation Aspire One netbook orders from Acer, market sources indicated that Acer changed its...

Asustek Computer is planning to drop prices of some Eee PC models in order to meet its annual shipments goal of five million units and to clear inventory of some older models. HP...

Although the global economy is showing signs of weakening, Acer has said it is not feeling much impact and expects total PC shipments in 2008 to surpass 30 million units. The company...
Related photos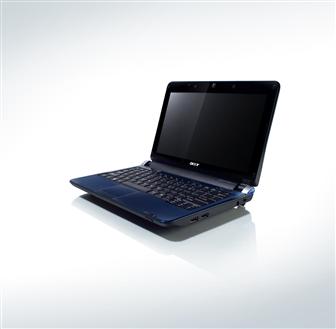 Aspire One AOD250 netbook with dual-boot OS
Photo: Company, Tuesday 27 October 2009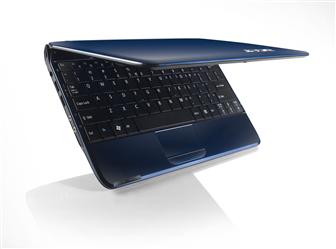 Acer Aspire One AO751h 11.6-inch netbook
Photo: Company, Monday 25 May 2009