Micro-Star International (MSI) announced recently the worldwide availability of its overclocking-enabled GX600 notebook PC which the company unveiled in July this year.
Instead of going through BIOS formation or application software, the CPU of the GX600 can be overclocking by simply pressing a turbo button on the keyboard, utilizing MSI self-developed TDE (turbo drive engine) technology, sources from the company noted.
After overclocking, the pre-set speed of 800MHz FSB of the Santa Rosa-based GX600 can be boosted up to 920-960MHz, while the frequency of its CPU and memory can also be increased simultaneously, the sources detailed.
The GX600, designed for enthusiast gamers, features a Nvidia GeForce 8600M GT graphics chip and supports DirectX 10 and shader Model 4.0, the sources added.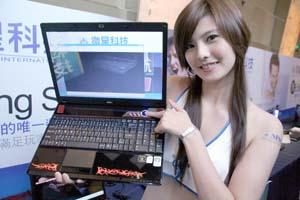 MSI's gaming GX600 notebook PC
Photo: Andrea Liu, Digitimes, October 2007