Micro-Star International (MSI) has announced the K9NU Speedster motherboard and P1-106 server barebone, which support the recently launched AMD Quad-Core Opteron processors (Barcelona).
Paired with the Nvidia nForce 3400 chipset, the K9NU-Speedster motherboard and P1-106 server barebone focus on the entry-level server market, supporting one Quad-Core Opteron 2200 series processor. The Nvidia nForce Pro 3400 supports 1GHz HyperTransport in full-duplex mode giving a bi-directional throughput that can reach 8GB/s to reduce bottlenecks. The K9NU-Speedster also provides a maximum memory bandwidth up to 8.5GB/s (DDR2-533) or 10.5GB/s (DDR2-667), according to MSI.
The K9NU-Speedster motherboard and P1-106 Server barebone provide eight DIMMs supporting a maximum 32GB DDR2 533/667 memory. Their XGI Volari Z7 graphics processor with 16MB video memory can meet users' needs without adding another discrete graphics adapter, while the products still provide two PCI Express x16 ports with Nvidia SLI technology support for future expansion.
The K9NU-Speedster and P1-106 have dual Gigabit Ethernet LAN ports based on Marvell's 1116 PHY chip to speed network bandwidth and response times for higher efficiency when transferring large files or providing multimedia/communication services, added MSI.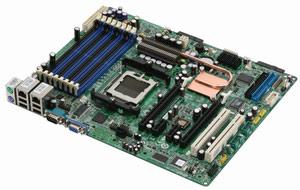 MSI K9NU Speedster server motherboard
Photo: Company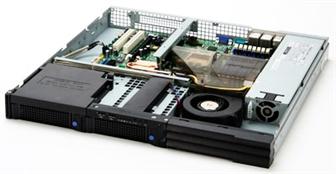 MSI P1-106 server barebone
Photo: Company