Micro-Star International's (MSI's) latest graphics card offering puts a twist on the trend of makers releasing Special Edition or overclock versions of their cards in order to offer slightly better performance.
The NX8600GT Twin Turbo carries not one but two vBIOS chips; this allows MSI to provide two sets of core and memory clock settings - normal and turbo - which can be switched between using a button on the back-plate of the card. It reminds us of PCs from the 386 and 486 era which also had a button on the case to adjust system speed "on the fly".
At the end of the day while having two vBIOSes available could be useful as a safety net for the few who are brave enough to flash the BIOS on their graphics cards, having to manually press a switch all seems rather inelegant when the same could be achieved with a software solution. But still, we appreciate the trip down memory lane.
MSI NX8600GT Twin Turbo graphics card specification

Item

Detail

Graphics bus technology

PCI Express

Core clock

540/580MHz

Shader clock

1450/1508MHz

Memory clock

1400/1600MHz

Memory amount

256MB DDR3

Memory interface

128-bit

Memory bandwidth

22.4GB/sec

Fill rate

8.64 billion pixels/sec

RAMDACs

400MHz

Output

Dual dual-link DVI, TV-out
Source: Company, compiled by Digitimes, August 2007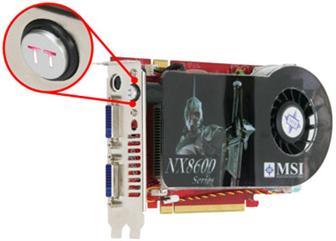 MSI NX8600GT Twin Turbo graphics card with two separate vBIOS chips
Photo: Company