1143 news items tagged NAND flash
Winbond Electronics expects to start operating a new 12-inch wafer plant in Kaohsiung, southern Taiwan by 2021, when the DRAM and flash memory chipmaker has its in-house developed...

Chipmakers have stepped up development of their respective 120/128-layer 3D NAND flash process technologies for cost competitiveness, and are gearing up to have the technology transitions...

Taiwan-based memory module makers have put increased focus on growing sales of their high-margin niche-market product lines to mitigate the impact of falling DRAM and NAND flash prices...

Revenues of the global NAND flash industry declined 23.8% sequentially to US$10.79 billion in the first quarter of 2019, according to DRAMeXchange. End-market demand has started picking...

China's Yangtze Memory Technologies (YMTC) is likely to kick off volume production of 64-layer 3D NAND flash chips ahead of schedule, as it is striving to gain orders from Huawei,...

The world's top-3 memory chip vendors are expected to see their sales for the second quarter of 2019 hit the year's lowest quarterly levels after experiencing remarkable sequential...

SSD prices have fallen below US$0.10 per GB, and are expected to drop further to as low as US$0.05 per GB next year, according to China-based storage device maker Longsys Electroni...

The world's top-10 semiconductor suppliers all suffered year-over-year sales declines in the first quarter of 2019 as the global chip market posted its worst quarterly performance...

Toshiba Memory and Western Digital have finalized a formal agreement to jointly invest in the "K1" manufacturing facility that Toshiba Memory is currently constructing in Kitakami...

StorArt Technology, a leading NAND flash controller solution provider, has launched a new eMMC5.1 controller, SA3635, supporting HS400 interface for all mainstream NAND flash in the...

Despite escalating uncertainties of the US-China trade war, the memory sector is expected to embrace the largest-ever bull market starting 2020, driven by massive 5G applications,...

Yangtze Memory Technologies plans to introduce the second generation of its in-house developed Xtacking 3D NAND architecture, dubbed Xtacking 2.0, in August 2019, said company co-CTO...

Backend house Orient Semiconductor Electronics (OSE) has seen its capacity utilization rate for flash memory products climb above 80% recently, according to industry sources.

Major memory chip vendors are on track to enter mass production of 90/96-layer 3D NAND products in the second half of 2019, according to industry observers.

Taiwan memory module makers showed mixed performances in the first quarter of 2019 amid sharp price falls for both DRAM and NAND flash, but they all expect the price falls to slow...

NAND flash prices are showing no signs of rebounding despite optimism about demand recovery in the second half of 2019, according to industry sources.

Longsys Electronics has disclosed plans to develop what the company claims is "100% China-made" flash storage device, which will utilize NAND chips manufactured by Yangtze Memory...

NOR flash memory prices, which experienced a double-digit sequential drop in the first quarter of 2019, will continue to fall but at a slower pace in the second and third quarters,...

The total memory market heavily influenced total IC market growth for the positive during the past two years but will likely have a very negative impact on total IC market growth...

SK Hynix will reduce its total NAND flash wafer production by more than 10% starting this year, as a result of the efforts to slow down its capacity expansion pace.

NAND flash prices are expected to fall less than 10% sequentially in the second quarter of 2019, and will likely stop falling later this year, according to industry sources.

The memory-chip market conditions will start to improve later in 2019, followed by several years of prosperity, according to Sumit Sadana, executive VP and chief business officer...

Winbond Electronics and Macronix International have reported sequential increases in March consolidated revenues of nearly 14% and 8.8%, respectively.

Memory market demand is expected to pick up in the second half of 2019, according to Miin Wu, chairman for flash memory and mask ROM chipmaker Macronix International.

China's Yangtze Memory Technology (YMTC) is set to kick off volume production of 64-layer 3D NAND flash chips by the end of 2019 as scheduled, despite prices for such memory products...
Related photos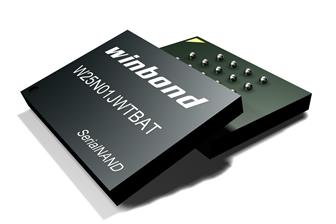 Winbond W25N01JW
Photo: Company, Monday 11 June 2018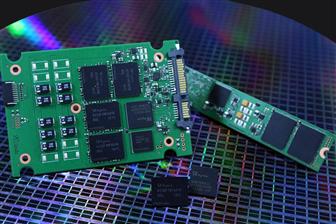 SK Hynix 4TB enterprise SSD
Photo: Company, Thursday 8 February 2018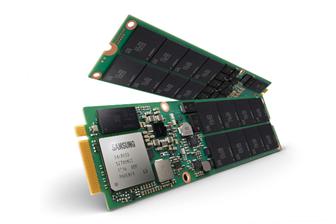 Samsung 1Tb V-NAND
Photo: Company, Friday 11 August 2017
Related news around the web